Welcome the New Year with Personalized Coffee Mugs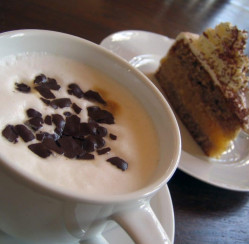 Christmas Day at our house was filled with an abundance of children's laughter, mountains of mouthwatering food and drinks, memories that will last for a lifetime, and of course wrapping paper and empty boxes from corner to corner. Since I decided to take the day off and enjoy the holiday with my family on Christmas Day, I woke up this morning to the evidence of a wonderful (and messy) Christmas. As I began rounding up the torn wrapping paper and bows, I realized that although the big day that I had prepared for over the last few months was finally over, it was time to set my sights on the New Year. A refreshed feeling of anticipation and excitement filled my heart, and I decided that this year, I wanted to make sure that my loved ones welcomed the new beginning with gifts that offered a more personalized touch than a generic bottle of champagne could offer.
Personalized Coffee Mugs for the New Year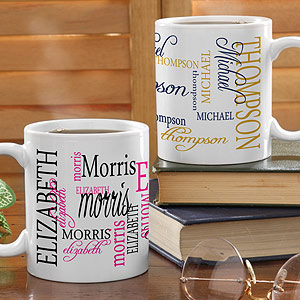 While I continued to clean up, I racked my brain for ideas that would make this New Year's Day really special for my friends and family members. As I reached for my mug of coffee, the solution finally hit me. I remembered seeing these Signature Style Personalized Coffee Mugs on ChristmasGifts.com a few months ago as I had been trying to finish up my holiday shopping, and I knew right away that those were the perfect gifts for my loved ones to enjoy as they welcome the beginning of 2015. Not only will these unique coffee mugs be perfect party favors for my friends at our New Year's Eve celebration, but they will be perfect to take to the office for my husband's coworkers as well.
You can personalize these mugs with any name, nickname or title you choose, and you even have the option of choosing a unique color combination. With 12 background colors and accent colors to choose from, you can make each coffee mug as one of a kind as the recipient you present it to. In order to make these coffee mugs even more special for my loved ones, I decided to make them into homemade gift baskets. I plan to fill some of the mugs with single serving packets of gourmet coffees, teas and cocoas, while others will be stuffed with a variety of candy, cookies, and even party favors to help loved ones bring in the New Year. For a professionally made appearance, I'm going to purchase some decorative cellophane and wrap them neatly with brightly colored bows at the top as a finishing touch.
Since these personalized coffee mugs are available in two sizes: 11 oz. and 15 oz., I can purchase the smaller sized mugs for my husband's coworkers, and the larger ones for members of my family and our friends who attend our New Year's Day party.
How do you plan to welcome the New Year? Do you typically offer gifts at your New Year's celebrations?
Creative Commons Attribution: Permission is granted to repost this article in its entirety with credit to ChristmasGifts.com and a clickable link back to this page.