Personalized Christmas Gifts for that One of a Kind Family on Your List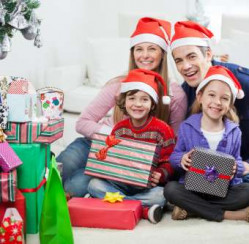 If there is one thing that I have learned over the years, it is that no two families are alike. While we may come across families that have a lot in common, some of the same interests and appear to be very similar, each family is actually a one of a kind creation. That being said, it only makes sense for us to offer unique, one of a kind Christmas gifts to the special families in our lives.
And so begins the challenge. I mean honestly. It is hard enough to find a special gift for a unique individual, but when we start talking about entire families, my head starts to spin. How on earth am I supposed to come up with a single gift that represents the family as a while and still reflects each family member's personality?
At first, when I initially began my Christmas shopping adventure this year, I had decided to pick up a few of those boxed gift sets at the local department store for all of the special families on my list. After mulling it over, however, I decided that these families needed to receive more personalized Christmas gifts; gifts that came straight from my heart. I decided to make loads of Christmas candy and cookies and send them over in decorative tins. While I still think that is an excellent idea, somehow it just didn't seem like enough to show these wonderful families how much I appreciate their presence in my life. Finally, I decided to consult with the master of gift giving himself, and Jolly Old Saint Nick gave me some great ideas that I would love to share with you.
Kick off your snow boots, grab a snicker doodle or two, and check out these personalized Christmas gifts for families.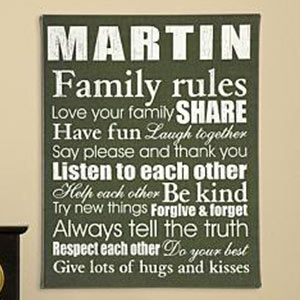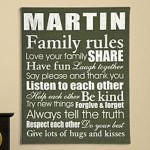 This Family Rules Canvas is the perfect gift for those special families on your list who have children this holiday season. With a variety of colors and sizes to choose from, it is simple to create just the right one to match the whole family's personality. You can personalize this gift with any family name or title that includes up to 12 characters to make a one of a kind gift that is certain to remind that family on your list to be loving to one another, laugh together, and much more.
Dig out your favorite photo of the family on your list and add it to this Family Name Frame this Christmas. This unique picture frame features any family name that includes up to 12 characters, creatively arranged around the photo that you insert. The contemporary design of this frame ensures that it will match almost any décor.
If you are searching for a gift that is certain to remind that special family that "The love of a family is one of life's greatest blessings", then this Family Initial Framed Print is just what you are looking for. It not only features the first initial of that special family's name, but it displays the entire name in both print and cursive at the bottom as well.
Tell us about the most unique family you have ever met!
Creative Commons Attribution: Permission is granted to repost this article in its entirety with credit to ChristmasGifts.com and a clickable link back to this page.