Personalize Your Christmas Memories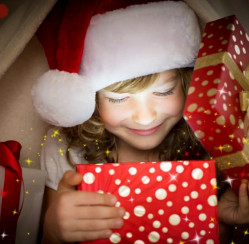 A few days ago when I went to visit my parents, my mom surprised me with something that I'd completely forgotten about. She'd been going through her old Christmas photos and keepsakes, and tears filled her eyes as she sat a few small things down on the table in front of me. She smiled in that motherly way, and asked me what those items meant to me. There were three personalized Christmas gifts to consider. As I began to recollect over the wonderful memories of my childhood Christmases, I realized the point that Mom was trying to make.
See, I have been really busy these last few Christmases, and instead of taking the time to make sure that my children were being given experiences that would create memories that they could treasure well into their adult years, I've simply been doing what is required of me in order to get through the holiday season without some sort of chaos. I examined the items that lay so innocently in front of me, and as my eyes welled up with tears of their own, thoughts of my beloved Christmases past filled my mind.
The first item was a unique stocking holder that still held a small plaque with my name. I remembered when my grandmother placed it on our mantle and let me help her hang my stocking from it. I was so excited about having it that I accidentally bumped it and knocked it to the ground where it lay chipped. The chip was still there.
The second item was a beautiful customized ornament that included festive characters with our names to represent each member of my family. I remember that we got it the day we brought my little sister home from the hospital when she was born- just days before Christmas when I was four. It's funny- but I can remember getting mad because her character was dressed in red and I wanted that color.
The last item was a photograph of an awkwardly made gingerbread house. My whole family had joined in on the fun that year, and I felt so special when Mom let me decorate it with our family name.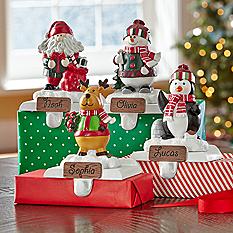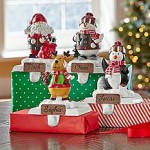 Since I hadn't had time yet to shop for gifts for my mom, I knew what I had to do. I rushed home and searched ChristmasGifts.com for personalized Christmas gifts, and you aren't going to believe what I found.
These Winter Wonderland Personalized Stocking holders are much like the one I remember from my childhood. I immediately purchased one for each of my children, and of course- one for mom. They are available in a variety of characters and each holds a personalized plaque the name of the recipient.
Next I found the Personalized Snowman Family Christmas Ornament, and I had it customized to represent everyone in my family. Again, I ordered an extra featuring my childhood family for my mom.
Since I knew I wouldn't have time to make a gingerbread house, I found this one instead. This Personalizable Handmade Gingerbread House was even able to be ordered with my family name! Of course, I had one delivered to my mom as well.
It's so easy to get caught up in the hustle and bustle of Christmas that we forget about creating memories. What special Christmas memories do you have?
Creative Commons Attribution: Permission is granted to repost this article in its entirety with credit to ChristmasGifts.com and a clickable link back to this page.