Our Special Christmas Gift Giveaway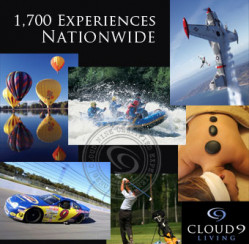 Who Doesn't Love A Unique $100 Gift Certificate?
Hello Everyone! Since Christmas is just around the corner, we here at Christmasgifts.com have come up with a new giveaway as a way of saying thank you to you all. We are proud to announce Our Special Christmas Gift Giveaway. One lucky recipient will receive a special Cloud9living.com. Experience Gift Certificate worth $100 USD.
Experience Gift certificates make the traditional gift certificate seem much less interesting. With a Experience Gift Certificate, you will be presented with more than 1800 experience options so there's sure to be something you will be fascinated with. Some of the more popular experiences offered include such things as dinner cruises, the fighter pilot for a day experience, driving or racing experiences, and spa packages.
How To Win
Here's what's required for an entry:
Post your comment here on our Blog page "OR"
Leave a comment on our Facebook page by clicking here.

a) What would you say is your Worst Christmas experience?
b) What would you say is your Best Christmas experience?
=================
Additional Rules
Contest is open to residents of the United States and Canada.
You must have a valid email address.
Duplicate Entries will be disqualified.
Last day to enter is Friday, November 15th, 2013 at 11:59PM EST
Winner will be drawn at random.
All of us at Christmasgifts.com appreciate your support. Please contact us with any questions. Good luck to you all! We appreciate your support and look forward to your responses.