Improve your Christmas Shopping Experience with these Valuable Tips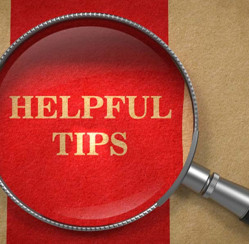 Although I've got marshmallows roasting on the open fire instead of chestnuts right now, and fragrant summer flowers are growing where the Christmas decorations will soon be, thoughts of Christmas have already begun to fill my mind. With seven children and a full time job, nobody knows better than I do that planning early and simplifying things can make all the difference when it comes to getting things done.
I absolutely love to shop for Christmas gifts, and although I still enjoy the traditional shopping during the holiday season itself, I have come to find that my hectic lifestyle, when combined with all of the holiday preparations, activities and festivities can make Christmas shopping a difficult and frustrating task to say the least. Thankfully, the elves have helped me put together a few tips and tricks that help make it much easier and more enjoyable to shop for Christmas gifts.
If the mere thought of Christmas shopping this year has got your stockings in a bunch, these tips are for you. Just sit back and relax, pour yourself a cup of tea, and let's get our jingle on!
Plan Ahead: Reduce your stress levels significantly by planning ahead for the upcoming holiday season. Make a note of any shipping deadlines to avoid costly last minute fees or late arrivals. Purchase gifts throughout the year as they become available and watch for sales and shipping specials to ease some of the financial burden of shopping all at once. Remember that last minute shopping not only causes additional stress, but can lead to overspending as well.
Make Lists: Make a list of the people you wish to buy for this Christmas, and then list a few gift ideas, special interests and hobbies to help keep you one track. I try to keep a separate list of the gifts I have already purchased as well to help keep things straight.
Shop Online: Avoid heavy traffic, frantic holiday crowds, long lines and hazardous weather conditions by doing what shopping you can online. You will save both time and money by not having to rush in and out of a variety of stores looking for that perfect gift, and many online purchases can even be shipped for free during certain times of the year.
Purchase a Few Extra Gifts: It never fails. Just when you thought you had all of your Christmas shopping finished, an unexpected guest arrives or you realize you've forgotten someone. When you shop for Christmas gifts, try to purchase a few less personal gifts for those moments of spontaneous gifting.
Consider Emailable Gifts: A newer trend in gifting these days, especially in last minute situations, is to purchase gift certificates that can be emailed. With this type of gift, the recipient receives a notification in his or her inbox, and then uses a code to redeem a gift or to shop at the merchant's store.
Keep Track of Gift Receipts: Never worry about purchasing gifts in the wrong size, style or color again. I try to keep all of my receipts in a box and ask for special gift receipts if I am purchasing more than one item to make returns easier.
Do you have additional tips that help make Christmas shopping easier? Drop us a line in the comments section.
Creative Commons Attribution: Permission is granted to repost this article in its entirety with credit to ChristmasGifts.com and a clickable link back to this page.