What do you give someone who loves Adventure? How about an Experience Gift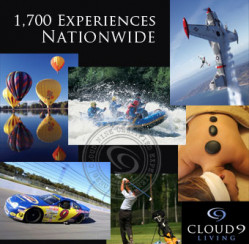 If you are searching for a unique gift for that adventurous person in your life, an Experience Gift is the perfect solution. Cloud 9 Living offers more than 1,800 experience gifts in 46 cities throughout the United States so you are certain to find the adventure of a lifetime for everyone on your list. While material gifts are often exciting to receive, over time many of them fade, become worn or broken, or get set aside to gather dust. An experience gift, however, offers your loved one the opportunity to enjoy something he or she has always dreamed of, and creates one of a kind memories that are certain to be treasured forever. Whether your loved one enjoys life in the fast lane with adventures like race car driving, flying a plane or white water rafting, or they prefer to experience relaxing activities like hot air balloon rides, a scenic cruise or a day at the spa, you can rest assured that he or she will receive a safe, yet exciting encounter.
Some of our favorite Experience Gifts offered by Cloud 9 Living include:
Race a Ferrari: The sound of revving engines vibrates the ground beneath you as the enticing aroma of exhaust and rubber fill the air. Your heart begins to beat faster as the excitement of what is to come thrills you from head to toe. As the checkered flag is dropped, you realize- you are racing a Ferrari! The Race a Ferrari experience gift is an excellent choice for the adventurer with a need for speed this year, and while the mere thought of putting your loved one behind the wheel of such an exotic vehicle may sound a little bit risky, you can rest assured that your loved one will receive an abundance of safety instruction throughout the beginning of his special day, and will be equipped with special safety gear before he ever even enters the vehicle. Priced at just $365, racing a Ferrari is more affordable than you think. Put the pedal to the metal and order this experience gift for the car enthusiast on your list today!
Hot Air Balloon Rides: Offer your loved one the opportunity to enjoy the exhilaration of floating gently amongst the clouds while taking in the breathtaking scenery from thousands of feet from the ground in a hot air balloon. This magnificent experience gift is the perfect gift for loved ones who enjoy a more gentle approach at adventure. Unlike other flying experiences that are interrupted by noisy engines and the restrictions of being enclosed, a hot air balloon ride enables your loved one to experience true serenity as he or she takes in the sights, sounds and scents of nature as the balloon glides gently across the sky. One of the best values offered by Cloud 9 Living, this experience gift is priced at just $199 and even includes a champagne toast upon landing!
What experience awaits your loved one this year?
Creative Commons Attribution: Permission is granted to repost this article in its entirety with credit to ChristmasGifts.com and a clickable link back to this page.