Have an Especially Sweet Christmas with these Chocolate Gift Baskets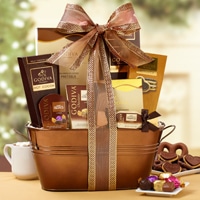 The aroma of holiday chocolate seems to fill the air regardless of where I roam this time of year. As I journey through the local shopping mall, I find myself drawn to the wide variety of marvelous Christmas chocolates that fill the windows of the candy stores, mouthwatering homemade chocolate treats line the counter tops of my mother's kitchen, and my children's hands are warmed as they hold mugs of delicious hot cocoa when they come in from the cold. There is something about Christmas that just seems to draw out everyone's craving for chocolate. If you are searching for the perfect Christmas gift for that chocolate lover in your life, chocolate gift baskets might be just what you need.
Chocolate Filled Gift Baskets
Chocolate Christmas gift baskets are a wonderful gift for just about anyone on your list this holiday season. There is a wide variety of options to choose from, and not only do they offer a more personalized twist to gift giving, but they are surprisingly affordable as well. Although I have to admit that I love the idea of any type of chocolate filled Christmas gift basket, here are a few that really seem to stand out.
Godiva® Chocolate Gift Basket: What chocoholic wouldn't love this amazingly elegant gift basket that is filled to the brim with an abundance of delicious gourmet chocolates? The Godiva® Chocolate Gift Basket includes a variety of truffles, chocolate covered pretzels, raisins, and graham, milk chocolate caramels and much, much more. With 2.0 oz of Godiva® Chocolate Truffle Coffee and 2.2 oz. of Godiva® Milk Chocolate hot cocoa to wash everything down, how can you resist?
Chocolate Bliss Gourmet Gift Basket: Undeniably one of my top picks when it comes to chocolate Christmas gift baskets, the Chocolate Bliss Gourmet Gift Basket is packed with some of the world's finest chocolatey treats, gourmet cookies, scrumptious shortbread and even some Ghirardelli® White Mocha hot beverage mix for those frigid winter nights. Who would imagine so much variety could be packed into one, tastefully decorated package?
Godiva® Decadence Gift Basket: Friends, family members, and business associates alike will melt when they discover the delectable flavor of these luscious Godiva® Chocolate goodies. The Godiva® Decadence Gift Basket includes a collectible copper-finish tin that is overflowing with treats like mouthwatering chocolate truffles, chewy chocolate caramels, chocolate covered pretzels and other sweet treats. Milk chocolate cocoa and chocolate truffle caffe coffee is also included for loved ones to enjoy as they relax beside the fire.
Things to Consider When Ordering Chocolate Christmas Gift Baskets
While chocolate gift baskets can make wonderful Christmas gifts for just about anyone on your list, there are some things you might wish to consider before placing your order.
Be sure to review product availability and shipping times to ensure that your gift is delivered on or before Christmas.
Check shipping rates, and remember- some companies offer free or reduced shipping when you order in bulk.
Consider the quality of chocolates and other treats that are included in your gift baskets. While it's true that you can often purchase gift baskets from your local retailers, in most cases you will be surrendering things like quality and freshness when you do.
What is your favorite chocolatey Christmas treat? Santa's Helper loves them all!
Creative Commons Attribution: Permission is granted to repost this article in its entirety with credit to ChristmasGifts.com and a clickable link back to this page.