Great Gadgets to Give As Holiday Gifts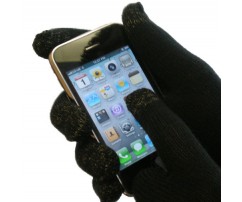 Technology saves time and money, which is the key to understanding the geek on your Christmas gifts list.
With that in mind, some gadgets got on our radar this week that will not only save time, but are useful enough to make someone's life a lot easier.
Fashionable Gadgets
For the smartphone user, (and who doesn't have a smart phone these days?)  consider Touch Screen Gloves.  Not only do these gloves keep the wearers hands warm, but allows the wearer to use the touchscreen while wearing the gloves; typically not accessible with 'normal' gloves.
Compact Gadgets
Gadgets often come in a compact fashion.  Here are some compact gift ideas for the home that made the top 10 home gadgets list:
One Touch Battery Can Opener
 Desk Gadget Organizer
 Shower Radio
Battery Operated Votive Candles
Gadgets for Comfort
In addition to saving time, gadgets are useful in making one feel better.  Who wouldn't want to come home, sit in their favorite chair and have their back and legs massaged with a simple flip of a switch?  A smaller gadget for the massage enthusiasts, known as the Da Vinci tool is a red hard rubber gadget.  This gadget is designed to relieve headaches in no time.
Another cool gadget for comfort is one that will also help prevent a person from falling on the ice, and that is ice traction slip-ons.  These rubber traction devices affix easily to any shoe and really are a lifesaver.
Functional Gadgets
Gadgets, especially electronic gadgets, don't mind doing the dirty work.   There are cool gadgets for gardener, including a gadget that will tell you when the plants need watering.  Even the desk jockey will enjoy the benefit of gadgets like a simple cord holder for the laptop.  There are gadgets for everyone from the quilter to the electronics geek.
What are some of your favorite gadgets that you can't live without?