Gloriously Grand Gift Baskets for Women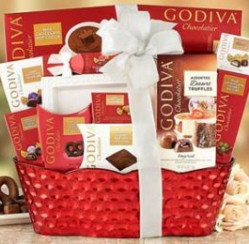 If you've been to your local superstore lately, you've probably noticed aisles and aisles of shelves filled with generic style gift baskets for women and men alike. Most of them are sparsely filled with sample sized gifts of food, bath and body items, or off brand candy. I remember purchasing one of those gift baskets for a coworker years ago, as gift baskets were our office party theme. I'll never forget how excited I was because the one I purchased looked like it was chock full of items. And then the humiliation hit. At our gift trading ceremony I proudly handed over my prized basket, and when my friend opened it, much to my dismay, the overflowing basket was just that- overflowing with shredded paper and cardboard, that is. To make matters worse, the gift basket I was given had been ordered from a reputable store online, and was truly filled to the brim with wonderful items. Let us just say, I learned my lesson that day.
Gloriously Grand Gift Baskets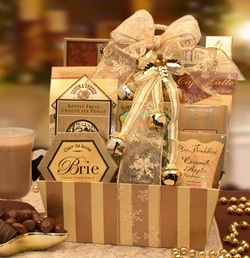 Fortunately, you don't have to settle for overpriced baskets filled with ho-hum items and paper any longer. We've got the best gift baskets for women right here at ChristmasGifts.com.
Gourmet Chocolate Gift Baskets for Her
When it comes to gourmet chocolates, few brands are better than Godiva®, and we've got a top rated gift basket that is simply flowing with all of her favorite gourmet Godiva® goodies. Pair this spectacular gift with a cozy throw, a good book and a mug for hot cocoa, and you are sure to have one happy lady in your life on Christmas.
Gift Baskets for Ladies who Live Far Away
Home is where the heart is and this Home for the Holidays Christmas Gift Basket is certain to touch her heart this holiday season. With an abundance of flavors and textures, this basket is the perfect accompaniment to her favorite bottle of wine and a good movie this holiday season.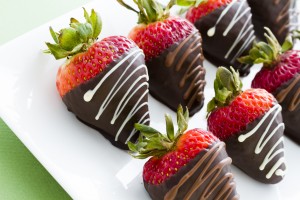 Who Doesn't Love Hand Dipped Strawberries?
Choose from a variety of unique flavors and designs and your loved one can enjoy hand dipped, premium strawberries delivered straight to her door this holiday season. Sensationally sweet and specially made, these strawberries are a unique twist on traditional gift baskets for women this Christmas. Pair these with her favorite bottle of champagne and a fluffy bathrobe and warm her heart.
Gift Baskets that Keep On Giving
Why settle for gift giving that happens only once a year? Celebrate the season all year long with a Gift of the Month Club membership for that special lady. Choose from a variety of gifts like luscious fresh fruit selections, mouthwatering pies, or select a variety gift of the month and your loved one will receive something new with each delivery.
Have you ever purchased one of those gift baskets or boxes from the superstore across town? What was your experience? Send us your gift basket horror stories in the comments section below, and be sure to share this article on all of your social media pages so we can see what your friends have to say!
Creative Commons Attribution: Permission is granted to repost this article in its entirety with credit to ChristmasGifts.com and a clickable link back to this page.
and