Gifts of Jewelry for that Special Man in Your Life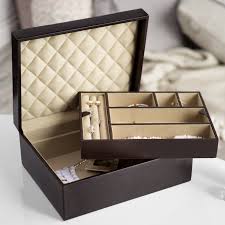 Women aren't the only ones who treasure gifts of jewelry. When it comes to Christmas gifts for men, however, jewelry gifts are often some of the last things we think about. I'm not sure whether or not this is because we are afraid to appeal to the softer side of the men in our life, or if it is just the simple fact that shopping for jewelry gifts can be very intimidating. Whatever the case, there are some really wonderful jewelry pieces and jewelry accessories that can make wonderful Christmas gifts for men.
Before you go dashing out into the bitter cold to that expensive jewelry store on the corner, or find yourself settling for lesser quality items at the local big box store, however, you should probably know that Christmasgifts.com offers access to a wide variety of magnificent jewelry gifts for men that are reasonably priced and of very high quality. And the best part yet? You don't even need to leave the comfort of your cozy home in order to find them.
Grab a cup of tea, kick up your feet, and check out some of our favorites!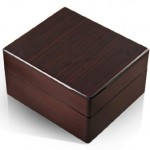 The Modern, High Gloss Macassar Finish 18 Note Music Jewelry Box is an elegant and sophisticated piece that is certain to impress that gentleman in your life this holiday season. Featuring a handsome contemporary design and immaculate craftsmanship, this jewelry box can be personalized with your choice of lettering for a truly unique touch. The jewelry box includes luxurious velvet interior to ensure that all of his favorite things are kept safe, and it's decorated with silver hardware for an exquisite appearance. With 18 note movement and higher music note options available, this unique piece is certain to put a song in his heart this holiday season.
If you are searching for a jewelry box that is just as elegant and sophisticated and even more spacious, check out the Elegant and Spacious Hi Gloss Rosewood 18 Note Music Jewelry Box for him this Christmas. With a large ring roll, an abundance of convenient compartments, two watch holders, a luxurious velvet interior and even a security lock and key, you can rest assured that his most prized possessions will be kept safe and sound when you present him with this magnificent jewelry box this holiday season. This piece includes a variety of musical tunes to choose from, 18 note movement, and even higher note options available for an additional charge. Personalize this handsome piece with his name, logo, initials or even a personal message and you can even select the plaque type and font of your choice to create a truly one of a kind piece.
If you have a special man on your holiday shopping list who would enjoy a unique piece of high quality jewelry this holiday season, check out this Men's Black Hills Gold Silver Bear Track Ring. This impressive piece features a high quality sterling silver band that is creatively decorated with recessed bear tracks that are accented with beautiful 12kt. Red gold and green gold leaves for an exquisite design that he is sure to love! A lady's variation is also available, so you can order a matching pair for you and your favorite man.
What is your favorite piece of jewelry or jewelry accessory that your favorite man has?
Creative Commons Attribution: Permission is granted to repost this article in its entirety with credit to ChristmasGifts.com and a clickable link back to this page.