Geeky Christmas Gift Ideas that are Simply Genius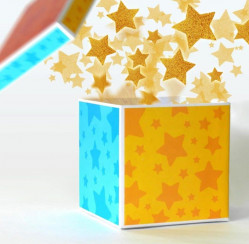 Okay, let's face it. As much as we all hate to admit it, we've all got that one special someone in our lives who just happens to be, well, a geek. While it seems like we try so hard during our Christmas shopping adventures to find popular or trendy Christmas gifts for our loved ones, when it comes to shopping, there is nothing more challenging than finding truly amazing geeky Christmas gift ideas.
If you would rather not subject yourself to the local techie-stores in your area, and the comic book shop on the corner isn't quite your cup of tea, don't worry- we won't judge! You'll be delighted to know that you can purchase some of the best Christmas gifts for geeks from the (normal) comfort of your own home when you shop right here at Christmasgifts.com.
Genius Geeky Christmas Gifts
Believe it or not, all geeks are not created equally. While some geeks are more in to techie-type things, others are perfectly content with simply being unique. Regardless of the type of geek you have in your life, we've got some genius gift ideas that are certain to be a hit.
Gadgets: There's nothing more geeky than unique gadgets, and we've got an abundance of great ideas to inspire you. Items to think about? The Knife/Scissors Clip Watch with LED Light, the Tooks Bluetooth Adapter with Microphone, or the iWatch Q Collection Watch Strap for iPod Nano are all pretty geeky gadgets.
Games: Create lasting memories for your beloved geek when you purchase a themed board game! The Big Bang Theory Part Game from Warner Bros., NCIS The Board Game, or The Hobbit: Unexpected Journey Lego Board Game from Warner Bros. are all wonderful additions to any geek's collection.
Apparel: Gear-up in the Harry Potter Quidditch Helmet (we know, it says it's for kids, but we read the specs., and one size fits most children and adults), check out the iHat Music Hat with Headphones, or order a personalized t-shirt or hoodie and really bring out the geek!
Experience: Life will never be the same for the geek in your life when you offer an experience gift! Experiences to consider? Check out the Ninja Lesson in New York, a Golf Lesson with a PGA Pro., or send that geek out on the streets with a Guided City Tour. If you simply can't decide on the best experience gift for your geek, purchase a universal experience gift certificate, and let him choose.
Out of this World: Give him a Christmas gift that is out of this world when you offer him the chance to own One Acre of Land on the Moon, Land on Planet Venus, or property on Mars. Your geek will receive a real live deed and a map that shows the exact location of the newly purchased property- all for under $30!
Stock: Purchase stock in your geek's favorite company, and let your favorite geek take ownership for his strangeness! What's available? Check out stock in companies like Twitter, Xerox, Nintendo, Disney, and hundreds more! Many shares include a hand framed, high quality certificate of ownership so your geek can display his stock in his collection of geeky items.
Do you have a favorite geek in your life? What are your favorite Christmas gifts for geeks?
Creative Commons Attribution: Permission is granted to repost this article in its entirety with credit to ChristmasGifts.com and a clickable link back to this page.