Frosty's Favorite Christmas Gifts for Kids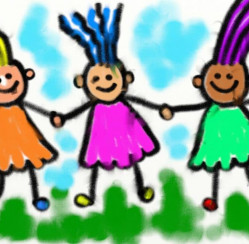 Things sure have changed when it comes to shopping for Christmas gifts for kids. I remember when I was just a wee little tot, not yet able to read. My mom would ask me what I wanted for Christmas. She would hand me a big department store catalog that she'd turned to the toys-section (do they even make those anymore?) and a black magic marker, and I would get busy marking the items I wanted the most. Mom would then rush frantically through the local stores in search of at least some of my top choices. Year after year, I can remember my mom coming home exhausted, frustrated and frazzled from her shopping adventures throughout the crowded, unorganized toy aisles she'd visited.
Compared to the old days, Christmas shopping these days is a breeze! We have the capability to purchase gifts from almost any store in the world right from the comfort of our own homes, as long as we have an internet connection. If you're ready to enjoy a fun and exciting shopping experience as you search for the perfect Christmas gifts for the children in your life, Christmasgifts.com is a great place to begin. Not sure what to look for? Frosty's got a list of his favorite Christmas gifts for kids right here.
Frosty's Favorite Christmas Gifts for Kids
Commercially prepared Christmas gift baskets are an excellent choice if you want to make a big impact with one special gift. They come in all shapes and sizes, a variety of price ranges, and are available in all of the latest kids' movie and character themes. Most kids gift baskets include activities, stickers, toys and treats that the kids in your life are sure to love.
If you like the idea of a gift basket, but would prefer to give something a little bit more personalized this holiday season, consider purchasing a variety of toys, gadgets and treats and make one yourself! You can find some really unique (and inexpensive) containers at your local thrift store or discount store for next to nothing. Simply fill the containers with all of your kids favorite goodies, wrap everything in colored cellophane, and top with a bow!
Consider your child's interests, and combine a group of items based upon a theme to create a gift that is truly unique. If your child loves Harry Potter, for example, you might consider combining items like the Harry Potter Quidditch Helmet from Warner Bros., a boxed DVD set, and a few other items from the movies and books to create something truly special this Christmas.
Children absolutely love adventure. Why not enable that special child in your life to experience something completely magical this Christmas with an experience gift? Experience gifts aren't as expensive as you might think, and they can create memories that your child is sure to treasure for a lifetime. Consider something like a hot air balloon ride, a stock car ride along, or rock climbing and hiking for a one of a kind adventure.
Personalized gifts are a wonderful choice for kids of all ages. Choose from a variety of items including personalized dolls and stuffed animals, personalized blankets and apparel, or even a customized children's book.
What are some of your favorite Christmas gifts from when you were a kid?
Creative Commons Attribution: Permission is granted to repost this article in its entirety with credit to ChristmasGifts.com and a clickable link back to this page.