Exciting Unique Christmas Gifts for Her!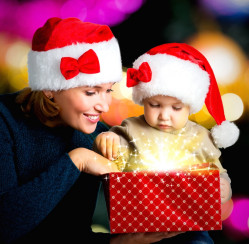 So you survived Black Friday- Congratulations! The only problem is, however, while we are happy that you made it home without a scratch, black eye, or broken body part, you also came home without a unique Christmas gift for that special lady in your life. Although we are a little bit disappointed that we won't get to discover any of your unique Christmas gifts for her this holiday season, we completely understand. Your mind was probably still on that fantastic Thanksgiving feast, the frantic crowds at the mall, or the blizzard that just invaded nearly half of America. To be quite honest, we really didn't expect you to find any truly unique gifts on Black Friday anyway. After all, if you are searching for gifts that are out of the ordinary, wandering around the local big box store or fighting your way through the crowds at your area shopping mall is probably not the best way to go about it. Don't panic, it'll be fine. You've still got plenty of shopping days left to find the perfect unique Christmas gift for her this year. Tell you what, since we at ChristmasGifts.com are proud supporters of Black Friday survivors everywhere, we will even help you out.
Find the Most Exciting Unique Christmas Gifts for Her Right Here!
Be Sentimental: Sentimental gifts are a wonderful way to touch her heart this holiday season. Consider these Jars of Notes for a truly unique experience. These elegantly decorated jars are filled with 31 tiny envelopes that contain unique messages your lucky lady can read anytime she needs to feel close to you. Choose preprinted messages from a theme, or make this gift completely one of a kind with personal messages that you create yourself.
Continuous Gift: Instead of giving her a single gift this Christmas, present her with a gift that keeps giving every month throughout the year. Our favorite? The Monthly Mystery Chocolate Gift Box Subscription! This unique gift box brings three mystery chocolate bars to your loved one's doorstep each month for as long as you like.
The Adventure of A Lifetime: Send your active lady on the adventure of a lifetime with an experience gift this holiday season. Choose from a hot air balloon ride or flying lessons, or select a spa package or a scenic cruise. With thousands of experience gifts to choose from, the sky is the limit when you purchase an experience gift!
12 Days of Christmas: Present your special lady with a new gift she can open every day leading up until Christmas. The Days of Gifts present is a modern day take on the 12 days of Christmas, and delivers 12 unique gifts to your loved one's door, complete with instructions explaining when to open each gift.
Are you still searching for unique Christmas gifts for that special woman in your life?
Creative Commons Attribution: Permission is granted to repost this article in its entirety with credit to ChristmasGifts.com and a clickable link back to this page.