Easter Gift Baskets, Not Just For Kids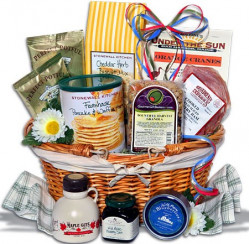 One of our favorite all-occasion type of gifts are gift baskets. There is just so much you can offer with this kind of creative and personalized gift idea. And, this Easter is no exception for giving a basket full of goodies to someone.
For a large selection of gift baskets, we find that Gourmet Gift Baskets.com has something for everyone and  every occasion. Therefore, it was no surprise to see that this Easter they have a large variety of Easter gift baskets.
Here are some adult Easter gift baskets from GourmetGiftBaskets.com to get your creative juices flowing:
They call this the "Easter Morning Breakfast Gift Basket," which is filled with goodies to get someone's Easter morning started with a bang.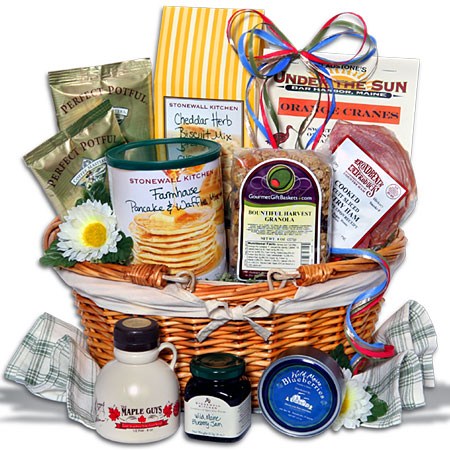 "Hungry egg hunters will enjoy fluffy pancakes topped with 100% pure New Hampshire maple syrup, or buttery biscuits topped with thick cut, mouth-watering hickory smoked country ham biscuit slices or wild Maine blueberry jam. Our handmade, two-handle basket is cloth lined and perfect for serving breads and muffins."
Another one is the "Red Wine and Dark Chocolate Easter Basket." This mix will provide enjoyment anytime of the day or night.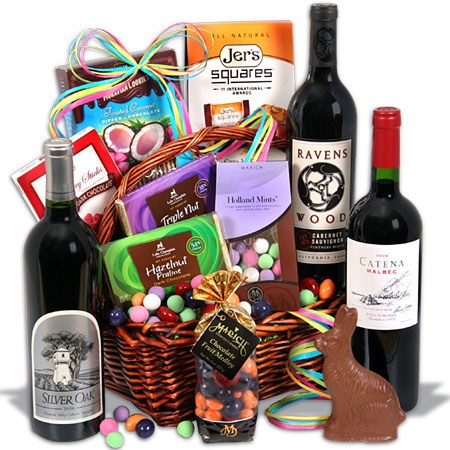 "[This is} a collection of milk and dark chocolates, and your choice of sumptuous red wines, creating an Easter Wine Basket full of healthy antioxidants."
Now, if that isn't sweet enough for you, take a look at their "Easter Sweets and Treats Basket."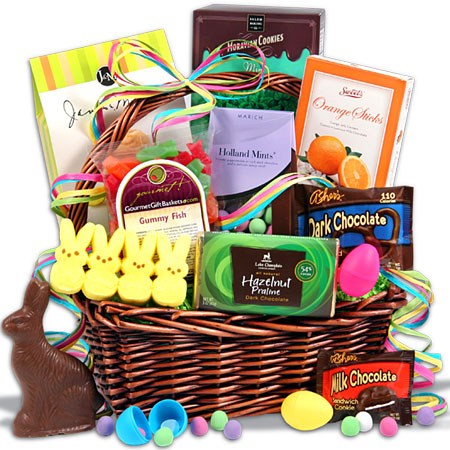 "Inside are essential and modern Easter candy, including a solid milk chocolate bunny, marshmallow PEEPs, Holland Mints, White Chocolate Key Lime Cookies, Milk Chocolate Orange Sticks, a Milk Chocolate Dipped Sandwich Cookie, Chocolate Dipped Vanilla Bean Cookies, a dark chocolate hazelnut bar, gummy fish, and a Dark Chocolate Smothered Pretzel."
For adults, when it comes to gift baskets, you really can't go wrong with a fruit basket. This is their "Easter Orchard Fruit Basket" and comes loaded with an array of fruit and goodies.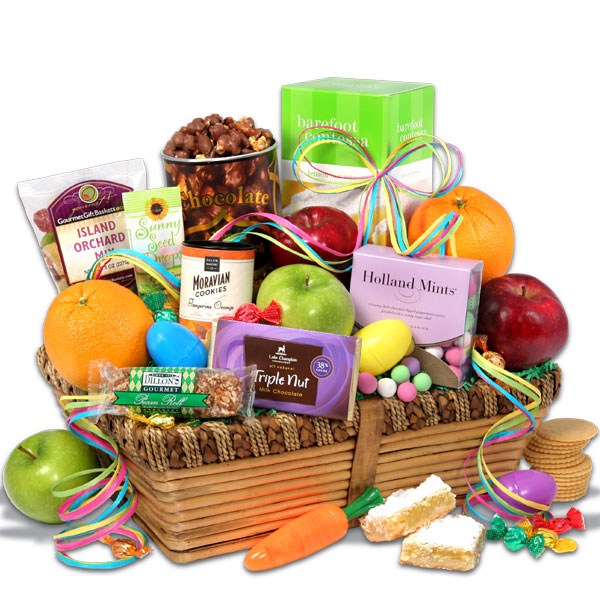 "Our collection not only boasts an array of succulent fruits, but offers plenty of sweet gourmet snacks, decorative eggs, and a carrot container to help with the holiday display."
You'll notice that each Easter gift basket has a vast assortment of items displayed in a way that makes a grand presentation. It's one of those, "Wow, look at this" type of gift. And, that kind of gift, whether it's an Easter gift or a Christmas gift, is priceless.
Which one of these is your favorite basket?