Dress It Up With Accessories To Make the Perfect Gift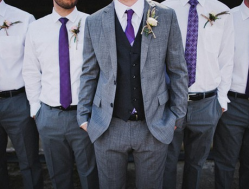 The perfect outfit is always made better with the proper accessories.  For your holiday shopping list, Christmas gift ideas could include accessories. These make the perfect holiday present because:
Both men and women use accessories
Accessories need not be expensive
Your holiday present will be worn
 Men Accessories
There are several great clothing accessories for the well dressed man.  No longer do you need to purchase the ever popular leather wallet as Christmas present.   Other male fashion accessories to consider are silk ties, tie clips, tie bar, watch, watch box, cuff links, and belts.
Custom ties are all the rage now; so consider making your holiday present customized with a either a memorable photo or a photo collage.
Women Accessories
Women are certainly the easiest to shop for when it comes to accessories simply because the typical woman wears up to five different accessories with an outfit.  In addition to an elegant pair of earrings, or a petite vintage brooch, the big "must have" item is the clutch purse.
One also can select hair accessories (gemmed bobby pins as well as ornate hair clips) as well as bracelets, necklaces and rings.  Customized messenger bags are very popular now and can readily be used.
Children Accessories
Children use accessories too!  A nice set of ear muffs with match scarf and gloves makes a welcomed gift on those cold winter days.  To make sure the young ones don't lose things, a backpack makes  a much appreciated holiday present.
Accessories for Everyone
The holidays find many cold temperatures.  Great items to give as gifts are warm weather gear, such as hat, scarves and gloves.
Another gift item that is sure to impress is cashmere socks.  Not only are they so incredibly soft to wear, they are incredibly warm!  Silk thermal undergarments are certainly appropriate to give as Christmas gifts too.
What are some of your "can't live without" accessories?