Dazzle Your Loved One with Jewelry this Christmas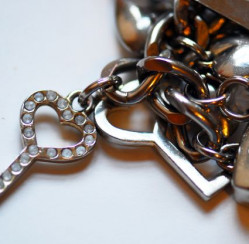 They say diamonds are the way to a woman's heart, and we are always reading sale ads and watching commercials that focus on husbands and boyfriends buying jewelry Christmas gifts for their wives and girlfriends. I know of quite a few husbands and boyfriends, daughters and sons, brothers and sisters, grandparents and friends who would love to receive jewelry Christmas gifts as well this holiday season, however.
For reasons that I have not yet been able to figure out, the act of buying jewelry for loved ones is very intimidating for many people. I'm not sure if it has something to do with the anticipation of high prices, the fear that they will purchase a piece that their loved one won't like, or maybe it's just the fact that shopping for jewelry is unfamiliar territory for some people. What ever the case may be, shopping for jewelry Christmas gifts isn't as difficult or frightening as it may seem.
If you have been considering purchasing jewelry for your loved one this holiday season, but you're not quite sure how or where to begin, you have come to the right place. I have put together a list of jewelry buying tips and tricks to help you feel a little more knowledgeable and comfortable when shopping for jewelry this Christmas, and throughout the year as well.
Tips and Tricks for Dazzling Your Loved One with Jewelry this Christmas
One certain style of jewelry is not perfect for everyone. Consider the personality of the intended jewelry recipient before you even begin to shop. If you are purchasing jewelry for a lady who frequently attends events that require her to dress more extravagantly, for instance, you might consider something like the J.Estina Perlina Earrings or matching J.Estina Perlina matching necklace as a Christmas gift. A mother who is tuned into her innerself and takes pride in her children might like a Hand-Stamped Mother + Children Necklace or the Family Pearl Pendant Necklace. Your teenage son will appreciate something more like the Personalized Stainless Steel ID Bracelet with Faux Leather, while the man in your life would likely appreciate a Personalized Wood Accessory Valet, a Wood Watch box, or a nice watch instead.
You don't need to spend your very last dime in order to purchase jewelry Christmas gifts for your loved ones this holiday season. In Fact, some of the most creative or unique jewelry pieces are actually relatively inexpensive. Check out the Mens Black Hills Gold Silver Bear Track Ring, the JeJem Genuine Ostrich Leather Ring, the Amethyst Locket Pendant or the Sterling Silver Created Blue Sapphire Ring- each available for under $100!
If you're not quite ready to take the jewelry shopping plunge, but you are insistent upon purchasing jewelry Christmas gifts for your loved ones this holiday season, consider purchasing a unique jewelry box or jewelry portfolio instead. Take a look at the Brave Dragon Walnut Jewelry Box, the Personalized Large Leather Jewelry Box or the Remarkable Solid Burl-Elm Floral Theme Wood Inlay Musical Jewelry Box for unique ideas.
What types of jewelry do you prefer? Are you the fancy, elegant type, or do you prefer something more natural or simple?
Creative Commons Attribution: Permission is granted to repost this article in its entirety with credit to ChristmasGifts.com and a clickable link back to this page.