Dashing Through the Snow with an Abundance of Outdoor Christmas Gifts for HIm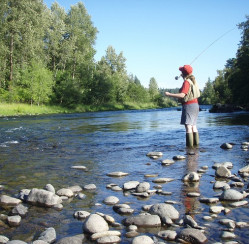 Even when there is a winter chill in the air, many individuals who love the outdoors still continue to spend plenty of time outside. Take my husband for instance. Even when the temperature falls to frigid, below zero temperatures, he dons his insulated coveralls and warm winter gloves and braves the weather to enjoy some relaxing time outdoors. He simply can not stand to be closed up inside of the house.
While many people tend to overlook items for the outdoors when it comes to Christmas shopping, a lot of outdoorsmen would truly love it if you purchased outdoor Christmas gifts for him this holiday season. If you have the outdoorsy type of man in your life, there are some really great items out there that would make excellent outdoor Christmas gifts for him. And remember, it is not going to be winter forever!
Before you dig out your snow boots and your warmest winter coat and go charging out into the blustery cold in order to rush to the local sporting goods store, STOP! Wait right there. We've got an extensive list of amazing Christmas gifts that are certain to impress that outdoor lover on your shopping list this holiday season.
Cool Ideas for Really Great Outdoor Christmas Gifts for Him
The fisherman on your Christmas shopping list is certain to appreciate the Joe Bucher Outdoors Shallow Raidar Magnum in his stocking this Christmas. What fisherman wouldn't love a fishing lure that is specifically designed to attract big game fish, resists snagging, and is tough enough to handle the big boys?
With spring time just around the corner, why not purchase the Picnic Time Gardener Folding Chair with Tools for your favorite gardener this holiday season? With everything he needs to work in the garden, and a chair to relax in when the work is done, he is certain to be pleased when he discovers this set under the Christmas tree.
Consider an outdoor experience for the outdoor adventurer in your life this holiday season. With exciting adventures like the America's Cup Sailing Experience, Golf Lessons with a PGA Pro, Skydiving, White water rafting and more, you are sure to find the perfect experience for the outdoorsman in your life.
Present him with a toasty warm way to add some tunes to his favorite outdoor activity when you purchase the Tooks Classic Headphone Beanie with Headphones this Christmas. An excellent choice for the active music lover in your life, this beanie is designed to be both warm and stylish.
Help him plan all of his outdoor activities without worrying about the weather when you give him this Home Weather Station with Remote Sensor this holiday season. In addition to both indoor and outdoor current weather conditions, this weather station provides information about the weather trends for the next 24 hours, the humidity and barometric pressure, the moon phase and even offers the sunrise and sunset times for your location.
Think outside of the box this Christmas, and purchase the TreeGivers Christmas Deluxe Holiday Gift Package for the outdoorsman in your life. With a tree that's planted on his behalf, a framed certificate of planting, and a unique Christmas ornament, he's certain to be impressed.
Do you spend a lot of time outdoors during the holiday season?
Creative Commons Attribution: Permission is granted to repost this article in its entirety with credit to ChristmasGifts.com and a clickable link back to this page.