Countdown to the Top 10 Christmas Gifts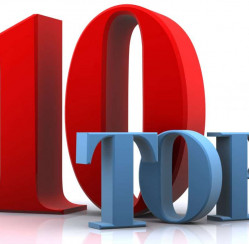 As the holiday season grows near, excitement for the upcoming festivities fills the air. I start thinking about the enticing smell of fresh-baked Christmas cookies, the laughter of friends and family at our holiday get-togethers, decorating the house with all of our Christmas treasures and best of all, the satisfying feeling I get when I watch my loved ones open their gifts. We all know that Christmas time isn't all about gifts, but creating and sharing wonderful holiday memories by offering special gifts to my loved ones has got to be one of my favorite parts of the holiday season.
If you're like me, you always tend to get a little bit stressed-out around the holidays when you start to think about what type of Christmas gifts to offer. Never fear, Santa and the elves have created a list of this year's top 10 Christmas gifts categories to help you fill your sleigh.
Top 10 Christmas Gifts Categories for 2014
While most of this year's "in-demand" gifts seem to reflect this hi-tech world we live in, there are a few more traditional-style items that are included in the top 10 Christmas gifts categories list as well.
Electronics: From microscopes, remote control vehicles and video surveillance systems to accessories and gadgets that compliment the latest technical devices, there is something for everyone in the world of electronics.
Music: With such a variety of unique musical gifts available, Tiny Tim and Grandma will both be impressed this Christmas. Loved ones can enjoy items like headphone beanies that enable them to listen to their favorite music while performing almost any activity, hard-to-find music cds that aren't typically available in local stores, and even a wide variety of musical toys for the little ones.
Personalized Gifts: No gift is more personal than one that is customized especially for your loved one. Find personalized photo frames and wall art, wine or beer glasses, and blankets, apparel and toys that are custom designed with your loved one's name, initials, or favorite saying.
Gifts for the Home: From dinnerware and collectibles to bedding and throw pillows, these are gifts that remind you that home is where the heart is.
Experience Gifts: Loved ones will be impressed when you offer them the chance to be a pilot for a day, take a city tour, or relax with a spa package this holiday season.
Gifts for Kids: Toys, toys, and more toys! From the newest hi-tech toys to the more traditional dolls and puzzles, kids of all ages will be delighted to find toys underneath the tree.
Romantic Gifts: Whether you offer unique jewelry, dinner and a movie, or a romantic getaway, romantic gifts are certain to touch the heart.
Unique Gifts: Handcrafted art, company stock certificates, and handmade jewelry are some of the top choices for unique gifts this year.
Collectibles: Add to your loved one's favorite collection with anything from celebrity or sports memorabilia to ornaments, novelty items and souvenirs.
Gift Baskets: With everything from food and wine gift baskets to activities gift baskets for the kids available, you're sure to find one that fits.
What are the most popular gifts on your list this year? If you've got more ideas for the top 10 Christmas gifts categories we have listed, let us know!
Creative Commons Attribution: Permission is granted to repost this article in its entirety with credit to ChristmasGifts.com and a clickable link back to this page.