Cool Off this Spring with these Christmas Decorating Ideas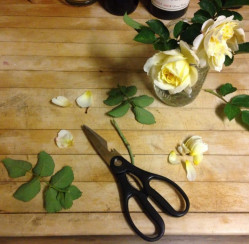 As the weather begins to warm up it is the perfect time to start thinking about cool new Christmas decorating ideas. Not only can you relax at home in the air conditioning while you search for new ideas, but taking a walk through the park can inspire you to create a variety of your own decorations as well.
While I am well aware that many people prefer to decorate with traditional items during the holidays, I am just NOT one of those individuals. Although I love the look of an old fashioned Christmas, I believe that the addition of unique items adds character to any holiday home. If you are ready to cool off with a refreshing glass of iced tea, by all means join me in discovering some of the most unique Christmas decorating ideas on the planet!
Not Another Bunch of Your Mother's Christmas Decorating Ideas
The first step in creating unique Christmas decorations is to hit the internet, garage sales and thrift stores to search for festive materials. While red and green items will offer a traditional Christmas atmosphere, be sure to be open minded with other vibrant colors and non-traditional holiday prints as well. Below is a list of items that are worth searching for:
Brass trumpets are an excellent decorating accessory that is often overlooked, and anytime I find them I try to add them to my collection. These festive items are so versatile that they can make your home's boring Christmas decor both fun and glamorous. Add ribbon, greenery or beads to make your collection of brass trumpets unique.
I am always on the lookout for vibrant ribbons, bows, buttons and beads. These items can be used in a wide variety of ways to add charisma to your holiday decor. Wrap them around lamp bases, dangle them from light fixtures and window coverings, and of course, add them to your tree.
Search for tiny Christmas balls and miniature Christmas ornaments to add some of that Christmas spirit to your everyday

houseplants

.
While walking through the park I often carry a shopping bag with me to collect pine cones, walnuts, branches and unique rocks that can be used to make a wide variety of Christmas decorations.
Make use of those ugly holiday sweaters, sweatshirts and t-shirts when you create custom covers for your throw pillows.
No holiday decorating adventure is complete without a few cans of spray paint! Search for silver and gold as well as other festive colors and paint tree branches, pine cones and even rocks to add your own touch to everyday items.
Candles can be an inexpensive way to add a festive touch to your home's decor, and they can often be found at garage sales, thrift stores and even dollar stores. Add them to decorative arrangements or display a collection by itself.
Whenever I find glass bowls I snatch them right up. They make an excellent display for old Christmas balls and decorated rocks.
What are some of your most unique Christmas decorating ideas? Do you purchase pre-made items, create them yourself, or do you use a combination of all of the above?
Creative Commons Attribution: Permission is granted to repost this article in its entirety with credit to ChristmasGifts.com and a clickable link back to this page.