Christmas Gifts for Kids: A Real Learning Experience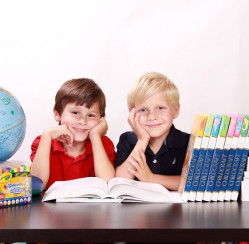 Have you been searching high and low for amazing, humorous or off the wall Christmas gifts for kids this holiday season? Why not present your favorite little people with the common cold, a kissing disease, or even a red blood cell? If you think we must have lost our minds, just wait until you see one of these adorable creatures available from GiantMicrobes.com.
What in the world are GIANTmicrobes®? They are amazing stuffed animals that have been created to resemble actual microbes, only they are a whole lot bigger. GIANTmicrobes® were originally created in order to teach children about germs and the importance of hand washing. Before long, these popular creatures were being created as  humorous educational tools for a wide variety of subjects, and they found themselves in classrooms everywhere. Since these crazy characters were so unique, they made learning about microbes fun, and it wasn't long before they became popular Christmas gifts for kids of all ages.
GIANTmicrobes® are available in a wide variety of microbial characters, and customers who choose the "originals" line of products can select their favorite out of a line up of more than 150 designs. In addition to the original plush toys, customers can also find vinyl cartoon figures, molded putty versions, GIGANTICmicrobes, and an abundance of other unique microbial merchandise including things like soap dispensers, ties, mugs and much more.
Each GIANTmicrobes® gift includes an information card that features an image and an abundance of interesting facts about the actual microbe it represents, making them more than just toys; they are excellent learning tools for kids. The "originals" line of plush toys measure between 5 and 7 inches tall, and the GIGANTICmicrobes® are a whopping 2 feet tall. We can't wait until you check out some of our favorites!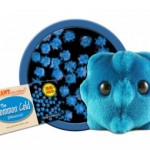 When it comes to Christmas gifts for kids, healthcare workers or anyone with a sense of humor, GiantMicrobes.com has definitely got quite the selection. Check out other characters like the Antibody, the Bed Bug, the Brain Cell, and many more.An excellent Christmas gift for kids, teachers, health professionals and anyone who has been feeling under the weather, the Common Cold GIANTmicrobe® is an adorable blue plush toy that is created to look like the actual rhinovirus. This cute creature is a fun way to help remind kids to wash their hands and help prevent the spread of the real common cold.
Do you have a boy or girl on your holiday shopping list that has become a little girl crazy or boy crazy this Christmas? The Kissing Disease plushy is an excellent choice. This pink stuffed toy looks similar to the Epstein-Barr virus, which is the actual kissing disease microbe, and makes a great gift for girlfriends, boyfriends and new couples as well.
Who ever thought a big Red Blood Cell could be so much fun? Designed to resemble an actual erythrocyte (red blood cell), these fun plushies make cheerful Christmas gifts for kids who have recently suffered an injury, science teachers and anyone in the healthcare field.
Which of these unique creatures is your favorite?
Creative Commons Attribution: Permission is granted to repost this article in its entirety with credit to ChristmasGifts.com and a clickable link back to this page.