Christmas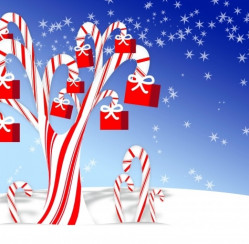 As the weather begins to warm, the trees begin to bud and the flowers begin to bloom we are starting to notice that spring is finally in the air. That being said, you might be wondering why on earth I am starting to think about Christmas. I understand that it may seem a little bit strange to be considering my Christmas list in the beginning of spring- but let me assure you that over the years I have discovered that the sooner I get my stockings in a row the better when it comes to the holidays. Not only is early planning much easier on my holiday budget, but it helps keep me sane when the pressures of the Christmas season begin to arrive.
There are a number of reasons that I tend to begin my holiday shopping early.
To begin with, you would not believe the fabulous sales that I find when it comes to coats, hats, mittens and other winter apparel. Since my kids are always seeming to grow like weeds, I try to find items that are a size or two larger than what they are currently wearing in order to ensure that things fit properly when the winter chill arrives.
I have found that if I start shopping early I can spread out the spending over a period of months which tends to be much easier on my budget. I usually try to decide how much I plan to spend in total, and then set aside a certain amount each month so that I can pick up a few items each time I shop.
Buying items throughout the year has come in handy more than once when an unexpected birthday, wedding or other occasion arrived. Since I always tend to have a few gifts tucked away in the closet I am never caught off guard without a present for my loved ones.
I never need to worry about paying rushed shipping fees or missing deadlines when I shop for holiday gifts early.
All that stress that comes along with not being able to find the items I want to purchase during that last minute Christmas rush is a thing of the past. If a certain gift that I am looking for is out of stock I have plenty of time to shop elsewhere or wait for it to be in stock again.
Speaking of stress; all of the pressure to attend holiday parties, make candy and other Christmas treats, decorate and entertain is enough to make anyone sweat during the holiday season. You would be amazed at how much easier the holidays can be when you don't have to worry about fitting in time to shop for gifts.
When do you typically begin shopping for holiday gifts? Do you try to spread it out over a longer period of time or are you one of those last minute shoppers that rushes in and gets all of your shopping done the week before Christmas? Do you have a strategy that makes Christmas gift shopping easier? We are always ready to hear fresh holiday shopping tricks!
Creative Commons Attribution: Permission is granted to repost this article in its entirety with credit to ChristmasGifts.com and a clickable link back to this page.