Chocolate Christmas Gift Baskets – A Chocolate Lover's Dream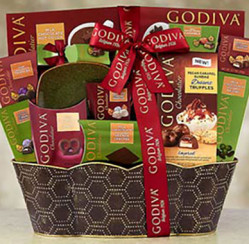 Chocolate Christmas gift baskets are likely a chocolate lover's dream during the holidays. I don't know about you, but in my opinion there aren't too many things in this world that are better than chocolate. Now I'm not talking about that low quality chocolate you find in those little gift boxes or chocolate Christmas gift baskets on the holiday shelves at your local dollar store, or those bags of discount chocolate stacked on the seasonal aisle. No, I am talking about high quality, rich delicious velvety chocolate. I'm talking about chocolate with nuts, chocolate with caramel, and just plain chocolate. The best part about chocolate is: it tends to go with just about anything. Chocolate with milk, chocolate with wine, chocolate with coffee – you see what I'm saying. A few months ago, I even had a chocolate pizza! Oh my goodness it was like heaven in my hands.
In my experience, chocolate can bring out the best in almost anyone, too. I see people indulging in chocolate when they are sad, when they have had a rough day, when they need an extra boost of energy, and when they are happy and celebrating. If you are searching for high quality chocolate Christmas gift baskets for those chocolate lovers on your Christmas shopping list this holiday season, you are going to love what I have to show you! We have some of the most unique chocolate gifts available right here at ChristmasGifts.com.
Chocolate Christmas Gift Baskets Recommendations
Perhaps one of my all-time favorites is the Miami Beach Holiday Bliss Gift Basket. Believe me, when they say bliss they mean it! This gift is absolutely overflowing with an array of rich, delicious chocolate varieties including mouthwatering chocolate dipped turtles, clusters, marshmallows, and much more, and is certain to impress that chocolate lover in your life. The best part about this magnificent gift basket is that all of the chocolate is custom made onsite.
Godiva® chocolates have been a holiday favorite amongst chocolate lovers for as long as I can remember, and this Godiva® Chocolate Gift Basket is just brimming with rich delicious chocolate. With everything from chocolate dipped pretzels to chocolate truffle coffee, there is something for everyone in this luscious gift.
Miami Beach Chocolates has done it again! This glorious Stackable Bag gift basket is quite possibly one of the most impressive chocolate Christmas gift baskets I have ever seen! It features so many wondrous chocolate varieties that there is no possible way for your taste buds to get bored. Featuring truffles, genaches, Nonpareils and more, your chocolate lover is sure to be impressed. And remember, all of the chocolate is custom made onsite!
If you're looking for a chocolate gift basket that features other types of treats as well, check out the Fields® Elegant Cookie Gift Tower. With three tiers of mouthwatering chocolate goodies, cookies and other treats, this gift offers an abundance of variety.
What types of chocolates are your favorite?
Creative Commons Attribution: Permission is granted to repost this article in its entirety with credit to ChristmasGifts.com and a clickable link back to this page. Featured image provided by
and