Chocolate Christmas Gift Baskets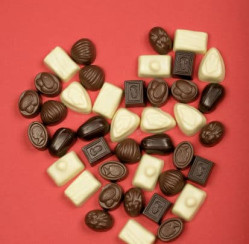 There are very few things more wonderful during the holiday season than chocolate. This time of year, it seems that nearly everywhere we look there are magnificent chocolate treats of some sort. With everything from flavorful hot cocoas, chocolate truffles and cookies to chocolate dipped goodies and even chocolate Santas, there is a favorite chocolate treat around every corner. If you are searching for unique Christmas gifts that are certain to be a hit with everyone on your holiday shopping list this season, it simply stands to reason that chocolate Christmas gift baskets are the perfect solution.
In the old days, most Christmas gift baskets were typically very impersonal. Not only were they scantily filled with off brand, lesser quality treats, but it seemed that they always contained the same basic items, making them a generic Christmas gift that didn't offer a lot of appeal. These days however, there is an abundance of chocolate Christmas gift baskets available that offer a wide variety of unique goodies and gourmet flavors that many people look forward to throughout the year.
If you are considering purchasing chocolate Christmas gift baskets for the chocolate lovers on your Christmas shopping list this holiday season, forget about bundling up in your warmest winter coat, trudging through slippery slopes of snow, fumbling with cheap discount store baskets that contain more cardboard than treats, and standing in long checkout lines. We've got all of the magnificent chocolate Christmas gift baskets you could ever want right here at Christmasgifts.com.
Our Favorite Chocolate Christmas Gift Baskets
While there are thousands of chocolate gift baskets on the market this time of year, let's face it- not all of them are created equally. We've sent Santa's elves out on an investigation to find the most wonderful chocolate gift baskets of them all.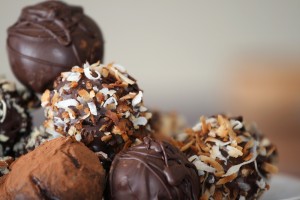 Godiva® Chocolate Gift Basket: A gift basket that is overflowing with sensational sweetness, the Godiva® Chocolate Gift Basket is perhaps one of our most favorite. With a wide variety of chocolate truffles, chocolate covered raisins, a chocolate covered graham, milk chocolate caramels, and of course chocolate coffee and hot cocoa beverages to wash it all down, this chocolate gift basket could quite possibly be heaven on earth.
Corporate Extravaganza Gift Basket: Filled to the brim with a wide variety of mouthwatering chocolate treats, this gift basket is about more than just chocolate. In addition to the melt in your mouth Ghirardelli gourmet chocolates, this fabulous gift basket includes such delectable goodies as smoked almonds, smoked salmon, a variety of gourmet crackers and even tortilla chips, cheese spread and salsa, so there is a favorite flavor for everyone on your list.
Ultimate Appreciation Basket: With mounds of magnificent chocolate treats, irresistible Bavarian Pretzels, and cookies galore, even the most finicky of recipients will appreciate the Ultimate Appreciation Basket this holiday season. Ideal for friends, family members and coworkers who have a love for chocolate and appreciate other gourmet goodies, this impressive gift basket is definitely worth mentioning!
What chocolate Christmas treats are your favorites? Do you prefer to order a high quality commercially made Christmas gift basket, or purchase the items separately and create one yourself?
Creative Commons Attribution: Permission is granted to repost this article in its entirety with credit to ChristmasGifts.com and a clickable link back to this page.