Around the World With Christmas Traditions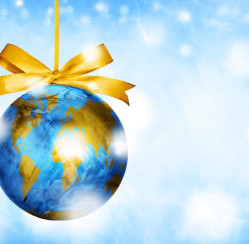 It's beginning to look a lot like Christmas. Bright, dazzling Christmas lights line the streets in every neighborhood, Sidewalks are busy with frantic shoppers who are all searching for that perfect gift, the malls are crowded, parking lots full, and Christmas trees glow in the windows of home around the United States. We read, almost daily, about Christmas Angels who offer help to needy kids, homeless people, and those who are less fortunate. Yes, I'd say that the Christmas Spirit is among us. Have you ever wondered, however, what Christmas in other countries looks like? Do they feast on enormous Christmas ham? Do they gather together in celebration with their family members and loved ones? Do they buy the same types of Christmas gifts that Americans do? Do they buy presents at all? Does everyone have a Christmas tree? These are all questions that I have pondered over the years, so I decided to do some investigating. If you're ready, grab a mug of hot cocoa or a refreshing glass of eggnog and let's sit back and see what Christmas in other countries is all about.
Christmas Traditions in Other Countries
The Christmas Season is said to be "the most wonderful time of the year", but why? Is it because single women get to throw shoes at doors to find out if they will soon be married? Is it because we are waiting for Santa and his kangaroos to ride in on a surfboard, or we are looking forward to a one-week fast? No? Well maybe not here in America, anyway. Believe it or not, that is exactly what Christmas in other countries looks like. Let's take a look.
The Czech Republic
We have all heard how people hate being single during the holidays, and women in the Czech Republic are no different. It is a Christmas tradition, in fact, for single women to stand with their backs to the entry door and toss a shoe over their shoulder. If the shoe lands with the toe towards the door, she can kiss her parents goodbye and start planning her wedding. If, however, the heel lands towards the door, she may as well invest in some cats for the holiday.
Norway
You probably thought that "The Nightmare Before Christmas" was simply a figment of Tim Burton's imagination. Well do I have news for you! In Norway, all brooms and other, similar style cleaning supplies are hidden away and men go outside and fire guns into the air to ward off witches and evil spirits on Christmas Eve.
Australia
It is summertime when people in Australia celebrate Christmas, so it's not a surprise at all that BBQ dinners are common. What is a surprise, however, is that the reindeer have lost their jobs to kangaroos. In fact, Santa is often even said to ride in on a surfboard.
Armenia
If you are interested in losing weight this holiday season, you may want to consider taking a holiday vacation in Armenia. Some people there choose to fast for the week before Christmas and then follow up with a light meal that includes such things as yogurt soup, rice, fish, chickpeas and jelly desserts.
What Christmas Traditions do you celebrate?
Creative Commons Attribution: Permission is granted to repost this article in its entirety with credit to ChristmasGifts.com and a clickable link back to this page.