A Workshop Full of the Best Employee Christmas Gifts Imaginable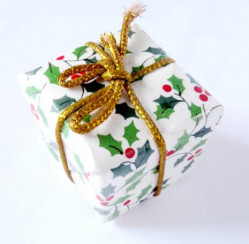 As Christmastime draws nearer, we are beginning to notice an abundance of Christmas spirit almost everywhere we turn. Customer service counters across America are being lined with an abundance of holiday decorations and treats, joyous Christmas music fills the aisles of nearly every shopping mall known to man, and even employee break rooms are becoming invaded with Christmas goodies and talks of Christmases past. You've made your gift list for your family members and friends, and by now you have likely got a pretty good start on your holiday shopping for the people in those categories. The problem is, however, you have no idea what you will get for your coworkers and employees this holiday season.
While you are probably not looking to spend an abundance of cash on business gifts, you don't want to be that person who just gets everyone a gift card, or a generic gift set from the local discount store, and calls it good. If you've tried that in years past, well, let's just say- it's likely that your employees weren't exactly tripping over each other to grab their piece of the pie. If you're like me this Christmas, you would like to give something a little bit more personal this year; something that shows your appreciation for a job well done without draining your pocketbook. If this sounds like you, and the mere thought of shooing for employee Christmas gifts has got you huddled up under your desk chewing on your ink pen- relax! Santa's Super Helpers are here, and we've got an abundance of great gift ideas for every employee on your list!
There is nothing like a little relaxation after work, and spa items make excellent gifts for the lady employees. Consider a spa related gift basket, a tabletop fountain, or even a gift certificate for a spa treatment or massage this Christmas.
Are your employees outdoorsmen, golfers or fishermen? Consider unique sports accessories like custom golf balls, personalized grilling tools or even a collection of fishing accessories to make their holiday bright.
If the employees on your list work from an office, there is an abundance of gift ideas that can help make their office space more cozy. With everything from the Himalayan Salt Lamps that plug right into their computers, to Light Affection's personalized photo lamp, to even clocks and custom made wall hangings, you are certain to find a gift that brings joy to the office.
Gift baskets make perfect employee Christmas gifts. Choose from fruit baskets, baskets filled with gourmet chocolates and other holiday treats, or even wine gift baskets, and you are certain to please your employees this Christmas.
Experience gift certificates are a wonderful way to show your appreciation for your employees, and with thousands of options to choose from, they make excellent employee Christmas gifts for everyone on your list. Starting at just $50.00, an experience gift doesn't have to be expensive, either.
A subscription to an "of the month club" is an excellent choice if you want to show your employees that you appreciate them now, and all year long as well. The selection of the month is delivered right to their office or home each month for as long as you select!
Does your company host holiday parties and celebrations?
Creative Commons Attribution: Permission is granted to repost this article in its entirety with credit to ChristmasGifts.com and a clickable link back to this page.