A Poetry Gift From Your Heart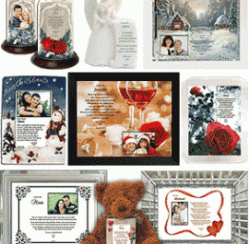 "People may not always remember what you gave them but they will always remember how you made them feel!"
This old saying still rings true today. Why not give your family members and friends a poem written by you letting them know how important they are to you and how they have touched your life. The time you spend walking the malls could be spent in your pajamas with a cup of coffee and pen in hand. Your family and friends will feel so special and in return, you will receive the best gift of all, the look in their eyes that they feel very special and very loved. A poem will never shrink, or go bad, or go uneaten, or get recycled. And the best part of all, A gift of poetry is a gift that keeps on giving! The gift recipient can display the poem in their home all year round and it will be a constant reminder to them of how much they are loved and appreciated.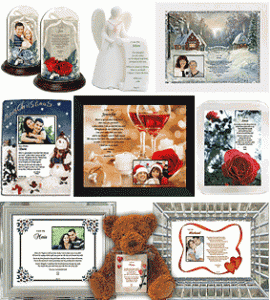 Consider giving poetry as a personalized gift this year whether it is for Valentine's Day, Mother's Day, Father's Day, Christmas, a birthday, anniversary… No need to worry about sizes because poems can come in small, medium, and large. Use your own words and consider using PoetryGift.com to design your poem with beautiful graphics that can be presented in the frame of your choice. Your poem can also be designed with an opening for a favorite photo. Or, if you are feeling a little tongue-tied, PoetryGift.com has a number of heartfelt poems for you to choose from. Free shipping is available.
Why not give poetry a try this year? Remember, "People may not always remember what you gave them but they will always remember how you made them feel!"
Enjoy free shipping and custom gift shopping at PoetryGift.com. Special gifts for an anniversary, baptism, wedding, birthday or other occasions. Personalized gifts for parents, husband, wife, sister, brother, Godmother, Godfather, best friends, daughter, son, boyfriend, girlfriend, aunt, Godparents, baby, grandparents, mother, father and more!