2015 New Year is Upon Us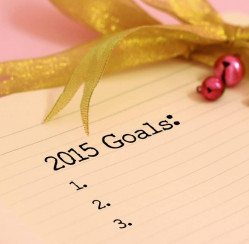 Christmas Day has come and gone, warm family gatherings and holiday celebrations with loved ones are drawing to a close, and the end of 2014 is upon us. The arrival of the New Year brings with it a chance for exciting new beginnings, refreshed hope, and the opportunity to set new goals. ChristmasGifts.com would like to take a moment to thank all of our readers for helping us to enjoy yet another wonderful and prosperous year, and to wish you a Happy New Year as we welcome 2015.
Did you know that New Year's Day is one of the most celebrated holidays in the world? According to this article that I found at Wikipedia.org, the celebration of New Year's Day actually began when the Romans dedicated January 1st, the first day on the Gregorian calendar, to Janus- the god of gates, doors and new beginnings. These days, the holiday is often celebrated with parades, parties, fireworks and the exchange of gifts, and continues to represent the birth of future opportunities.
Resolutions for a Happy New Year
Since many people view the beginning of the New Year as a time to make a fresh start, the tradition of making New Year's resolutions has become extremely popular throughout both the Eastern and Western Hemisphere. Some of the most popular New Year's resolutions include:
Stopping Addicting Behaviors: Many people take advantage of the New Year to make important changes in their lives like no longer smoking or using tobacco products, quitting drinking or getting rid of other unhealthy habits.
Weight Loss: Perhaps one of the most popular goals that many people choose to set for the New Year is to lose weight and become more physically fit.
Financial Goals: Millions of people throughout the world resolve to get out of debt, spend less or increase their savings throughout the New Year.
Relationships: Some individuals make the resolution to be more supportive, understanding or patient in their relationships while others promise to visit loved ones more often or spend more time with their children and their spouses.
New Experiences: A lot of people reflect upon their lives and decide to try new foods, make new friends, take a trip or learn about other cultures.
Helping Others: Many individuals resolve to make it a happy New Year for those who are less fortunate. While some might decide to donate money, food, or other items to charity or volunteer in soup kitchens or animal shelters, others choose to help individuals and families in their immediate community with transportation or chores.
While people begin their goals and enter into the New Year with the best of intentions, sadly approximately 88% of people who make New Year's resolutions fail. Below are some tips to help ensure that you succeed at keeping your own resolutions and meeting your goals for the New Year.
Instead of setting large or long term goals, try breaking up your resolutions into smaller parts or setting a short term goal each day or week.
Go public with your resolutions. Letting people know of your intentions will help you focus on success.
Get support from family and friends.
What resolutions have you made as we enter 2015?
Creative Commons Attribution: Permission is granted to repost this article in its entirety with credit to ChristmasGifts.com and a clickable link back to this page.