Let's win some Gifts!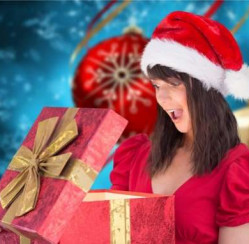 We are so thrilled to announce one of our most exciting Christmas gift giveaways yet! For this week's contest, we have decided to make things even more fun for our readers. In just a few short days, one lucky winner will receive an exciting mystery gift from one of our most magnificent sponsors!
Our newest contest is sponsored by Lifestyle Dynamics, and the mystery prize has a retail value of approximately $60. Lifestyle Dynamics is a unique company who is committed to finding new, exciting ways to make the most of life each and every day. With a wide variety of innovative products and loads of helpful tips, life hacks and even recipes, they are ready to embrace all that life has to offer.
This fabulous surprise gift is located somewhere on our site, so be sure to browse around and see if you can guess which cool gift it might be and check out the contest instructions below to find out how to win!
Here is How to Win
1. Start by going to ChristmasGifts.com . Choose an item you really love. You might win it!! Click on the product of your choice.
2. Scroll down to the "Share This" section at the bottom of the page and click the buttons to "share" the gift on all of your favorite social media accounts like Facebook, Twitter, or StumbleUpon.
3. Next, type the name of the exciting gift you selected on our Facebook contest post.
That all you need to do! (Enter up to 5 times each day.)
Additional Rules and Tidbits

Contest is restricted to residents of the United States.
A valid email address is required.
Duplicate entries will be disqualified.
Enter by

Wednesday, December 18th, 2016 at 11:59 PM EST

Winner will be drawn at random.