It's Time to Get into the Spirit of Christmas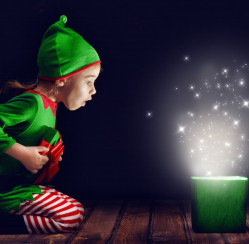 Before you know it Christmas will be here. While many of us plan to begin preparing for the holiday season early, sometimes we get so caught up in our everyday lives that the weeks before Christmas pass us right by. We're left rushing to find last minute Christmas gifts, squeezing those holiday parties in between work and errands, and finalizing Christmas decorations before the big day. In fact, the holiday season can be so overwhelming that we might never really get into the Christmas spirit, and we lose touch with the meaning of Christmas entirely. This year, ChristmasGifts.com would like to ask you to take just a few minutes each day and find it in your hearts to remind your community how some of the best Christmas gifts are simply gestures, kind words, and thoughtfulness.
Make a Difference in Your Community this Christmas
Consider the people in your community, and how the Christmas season might be affecting them personally. Are they overwhelmed with the stress of added holiday expenses? While many of us never need to worry about whether we will be able to afford our next meal, keep our heat on as the chilly winter air sets in, or make sure our kids have warm coats and winter shoes, others are not so lucky. If you are fortunate to have more than you need, be sure to make a difference by sharing with people who might be in need. Gather up those extra blankets and the coats that the kids have outgrown and donate them to your local church, shelter, or other place of assistance. Bring those leftovers to the older couple down the road. Donate a few groceries to your area food bank.
Give the Gift of Time
The holidays can be a lonely time for many people, but you can help change that. Perhaps that gentleman next door who lives alone could use some company. Maybe that lady who has been too sick to buy gifts could use a little elf. Do you see that house where your neighbors have been unable to brave the cold and decorate for the holidays? Gather a few friends and put up some lights or other decorations (with permission of course). Take a friend to lunch, call your favorite aunt you haven't heard from in a while, or pay a visit to an old pal.
While you might not make a difference for everyone, you can touch the lives of so many. What other ideas do you have to help bring the Christmas spirit to others this year?