Whether that man in your life is difficult to buy for, or you're in need of a last minute gift that won't break the bank, gift baskets are the perfect solution. With a wide variety of baskets filled with gourmet treats, fresh fruits, salty snacks, and almost everything in between, we've got you covered.
Editor's Choice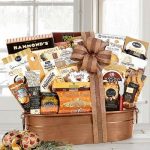 $

134
Executive Gift Basket
$134
Give those busy executives and professionals the very best! This elegant Executive Gift Basket is made specifically with them in mind, and is generously packed full of gourmet foods such as Kasilof Smoked Salmon and Godiva Chocolates for a taste they will truly appreciate Features of the Executive Gift Basket include:Garlic & Herb Cheese Spread – (4oz.) Butter Toffee Nuts –...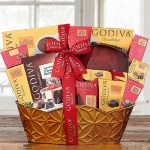 $

69
Godiva® Chocolate Gift Basket
$69
What's an undeniably sweet gift for the chocoholics in your life this holiday season? Godiva® Chocolate Gift Baskets, of course! This gorgeous antiqued finish metal gift basket, with delicate ties and a touch of gold lace, is filled with indescribably delicious gourmet fare. What an elegant gift! Purchase this gift basket to impress that special someone. Co-workers friends, and family members...
Featured Gifts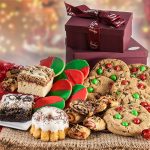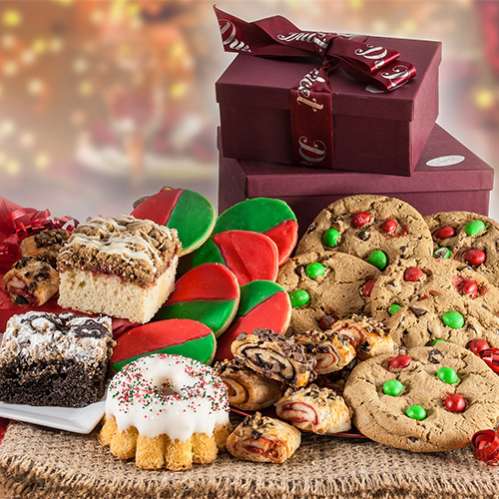 $

69.99
Dulcet's Christmas Holiday Deluxe Gift Tower
$69.99
Holiday gift baskets are a great way to start off the season in style, and this elegant, treat-filled gift tower is the perfect choice. Featuring an abundance of delicious holiday goodies, the Christmas Holiday Deluxe Gift Tower is excellent for sharing at your next holiday celebration. This exciting tower of treats includes M&M cookies, mini green and whites, a luscious lemon sprinkled mini...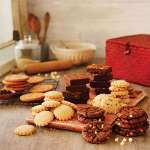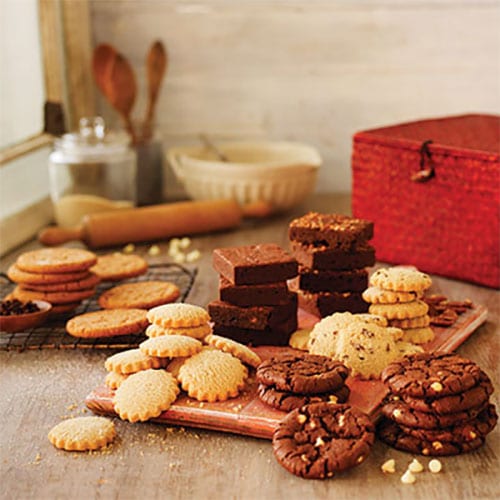 $

54.99
Dancing Deer Gourmet Treats Gift Basket
$54.99
With almost three pounds of amazingly delicious gourmet treats, this bountiful gift basket by Dancing Deer Baking Co. is sure to please that special man in your life this Christmas. This Gourmet Treats Gift basket features an abundance of all of the fabulous favorites like award winning Molasses Clove Cookies, Triple Chocolate Chip Cookies, Chocolate Chunk Brownies, Caramel Pecan Brownies,...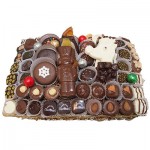 $

90
Miami Beach Holiday Splendor Gift Basket
$90
Traditional Christmas candy always brings an abundance of holiday cheer to loved ones near and far, and this magnificent gift basket is certainly no exception. The perfect Office Christmas gift for your company's holiday celebration, addition to your own homemade goodies at your family celebration, or gift basket for loved ones far away, this Holiday Splendor gift basket is just brimming with...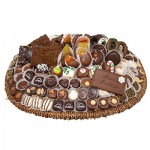 $

180
Miami Beach Elegant Super Deluxe Holiday Gift Basket
$180
An exceptional Christmas gift for executives this Christmas, this magnificent collection of all time favorites is certain to please the whole office. Whether coworkers are in the mood for something salty and sweet, sweet and crispy, rich and velvety, or creamy and luscious, this impressive super deluxe gift basket has it all. Designed specifically to tantalize the taste bud of everyone on your...
Christmas Gift Baskets for Men
If you are searching for Christmas gift baskets for men who are difficult to buy gifts for, your search is over. Whether it is a last minute gift you seek, something completely one of a kind, a special gift for him that can be delivered to a location far away, or you want a collection of gifts that will stretch your budget, ChristmasGifts.com has just the right solution this holiday season.
Unlike those generic, mass produced gift baskets for men that you might come across in your local store, (you know the one's we mean- they are overpriced, underfilled, and often include items he would rather toss away) the men's gift baskets featured by our fascinating merchants include an abundance of items he will actually appreciate. These unique creations include a collection of items that are proven favorites for men year after year.
Christmas Gift Baskets for Men Everywhere
Our unique merchants offer an impressive variety of Christmas gift baskets for men that are simply out of this world! Regardless of your special man's interests, your budget, or your location, ChristmasGifts.com has got you covered this holiday season. Check out some of our favorite gift basket ideas!
Christmas Gift Baskets: These hand filled gift baskets are created specifically with the Christmas holiday in mind, and they are overflowing with amazing treats he is certain to love. Choose from gourmet chocolate gift baskets, savory items like artisan cheese or meats, or salty varieties like pretzels and nuts.
Wine and Cigar Christmas Gift Baskets: Does that man in your life take pleasure in the finer things in life? We've got just the unique Christmas gift baskets for him this Christmas. Choose from gifts baskets with fine wine, premium cigars, and hand crafted beer. If you have a few extra dollars and some extra time, be sure to check out our personalized pub glasses, custom wine glasses, or gourmet food gift baskets to enhance your gift.
Monthly Gift Clubs: Let your man know you are thinking of him during the holidays and throughout the year with a monthly gift club! Monthly clubs are an excellent way to send Christmas gift baskets for him to receive as often as you like, and for as long as you like. Since a new selection is sent in every shipment, every single delivery is a surprise.