The Best Christmas Gifts for Teenagers in 2015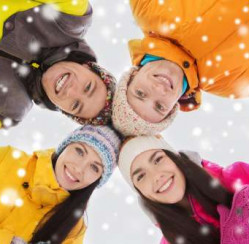 When it comes to finding the best Christmas gifts for teenagers, there is a lot that could go wrong. Teens are just notoriously difficult to shop for and have been since the dawn of time. While they are no longer "kids", at least in their eyes, they have not quite reached adulthood either- regardless of what they might think. While it is tempting to write a check or stuff some cash in an envelope for the teens on your holiday shopping list, opening a card just isn't as exciting as opening an actual gift. Finding the right Christmas gifts for teenagers can be really difficult, however. Fortunately, ChristmasGifts.com has had a meeting with the elves, and we've decided to do the legwork for you this holiday season. We've put together a few shopping tips and teen gift ideas that are certain to take the chill out of finding great gifts for teens. Grab a nice warm mug of cocoa and some of that leftover Thanksgiving pie, and let's get started.
Create Exciting Holiday Memories: Think outside the box this holiday season and consider giving your teen a gift that creates exciting memories that can be cherished for years to come. An experience gift is the perfect solution. With thousands of different experience options in a wide variety of locations, you are certain to find the perfect adventure for your teen. Choose from things like hot air balloon rides, skydiving, city tours, and much, much more.
Get Personal: Just like anyone else, teens love having their own name on their belongings, and even the most finicky of teenagers will love having a gift that is made especially for them. Choose from personalized shirts or hoodies, coffee mugs, jewelry, or even custom photo frames.
Featuring- Your Teen: Perhaps one of the most unique gifts for teens that we have seen this year is the personalized magazine cover that features your favorite teen on the cover of a fake magazine. You simply upload a photo of your teen, enter a few or his or her characteristics or special accomplishments, and before you know it, a new magazine cover is created. If you are running short on time, you can even choose to print the magazine cover from your own home computer.
Music to Your Teen's Ears: With a wide variety of music gifts, we've got something for every teen on your list this Christmas. Check out the Tooks hat that features built-in headphones and is compatible with your teen's iPod, or consider a portable multimedia player that features a top loading CD/ DVD tray and a 7 inch television screen. Other ideas to think about? If your teen is into playing his or her own music, check out some of our featured musical instruments.
Do you have trouble shopping for teens during the holidays?
Creative Commons Attribution: Permission is granted to repost this article in its entirety with credit to ChristmasGifts.com and a clickable link back to this page.