Featured Gifts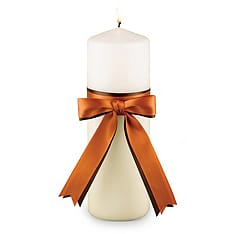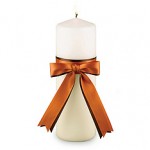 $

29.95
Ivory Unity Candle with Two-Ribbons (Choose a Color)
$29.95
This beautiful Ivory Unity Candle with Two Ribbons would make a perfect prenuptial gift or Christmas gift for your favorite couple this holiday season. The Mix n Match pillar candle offers two ribbon colors of your choice. Each ribbon is tied daintily around the center of this 9 in. X 3 in. dripless candle to create an elegant addition to your unity lighting ceremony. Ribbons are offered in 27...
Candles, once thought to be only romantic in nature, are more prevalent than ever. In various shapes, sizes and scents, candles are used to set a mood as well as, illuminate a room.
In addition to candles having various colors, they also are made out of various materials. No longer is simple wax the order of the day in candle making. Candle making materials these days include soy, beeswax and even gels.
Differing waxes can prolong the candle's burn time. As well, storing candles in a freezer also extends the burn life. This is an important element to consider when placing tapered candles on the table for a holiday dinner.
Caring for candles is typically simple. However there are those occasions when wax spills onto tables and/or table clothes requiring specialized care.
Removing Wax from Washable Fibers
Follow these steps to remove candle wax from washable fibers:
Scrape the area to get rid of the extra wax
Put the stained part of the fabric between two sheets of white blotting paper ( or paper towels) and press gently with a warm iron
Change the paper as you see it absorb the stain. Press carefully, as the stain can spread easily
Let the fabric dry
If some traces of stain are leftover, use a stain-remover, such as Afta Cleaning Fluid
For any remaining dye, use a sponge to apply a solution of  2 parts water, 2 part rubbing alcohol. Remember not to use rubbing alcohol on acrylic or modacrylic fabric
Rinse with clean water and let dry
Using Scents to Enhance Your Gift
The use of aromatherapy is prevalent in candles. Aromatherapy is the use of fragrances to alter or change a person's mood and subsequent behavior. The use of fragrance has been scientifically proven and has far reaching effects, but some consider the practice to be hokum. For your consideration, here is a list of aromatherapy scents and the ambiance they help create:
Cinnamon:—Aids focus and concentration.
Clove:—Strengthens memory.
Eucalyptus:—Promotes healing; especially good for colds or flu.
Lavender:—Brings inner calm and peace, releases one from emotional stress.
Sage:—Removes negative energy, powerful clearing and cleansing scent.

2013 is projected to be a great year for giving. Check out the top Christmas gifts this season in our featured gifts section.