Featured Gifts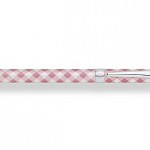 $

50.00
Century Colors Tender Rose Gingham Ballpoint Pen
$50.00
This Century Colors Tender Rose Gingham Ballpoint Pen is an ideal gift for your office friends and co-workers this Christmas. It's fashionable, delicate and slim design is distinctively feminine. This light weight pearlescent pin mixes a stylish flair with quality and sophistication. The advanced tip design ensures that it writes beautifully every time. It's pearlescent gingham pattern...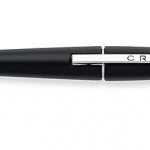 $

40
Edge Jet Black Gel Ink Pen
$40
This Edge Jet Black Gel Ink Pen would make a wonderful gift for co-workers or office associates this holiday season. Who ever said you can't combine work and play? With this innovative design, your co-workers won't be able to resist! Purchase one for every co-worker on your list this year, and this capless rollerball pen will have the entire office sliding and...
Giving Pens and Stationery as Christmas Gifts
Holiday gift giving is fun when you're shopping for pen sets and stationery. Most people have a favorite pen they enjoy writing with; despite the fact that most of today's correspondence is done electronically through email message or text messages. For some busy executives, pens and stationery are their ambassadors to customers, clients and co-workers.
Identifying the Perfect Pen
When considering purchasing a pen set as a holiday gift there are a few factors to consider first:
Which color ink is best?
How often will the pen be used?
Where will the pens be stored?

What is the ideal weight of pen?
What type of material is best?
Ink Pen or Ball Point Pen?
Getting these questions answered prior to pen shopping would be wise as the answers will help point you in the direction of acquiring the perfect pen set.
Here a Pen. There A Pen. Everywhere a Pen!
Pens are so prevalent in our society today that you can actually find them at your local grocery store. As well, most people carry pens on their person or in their automobiles. However, locating the perfect pen set will most likely take place at a fine stationery store easily accessible online. There you will find a wide selection of wooden, metal, and gold plated pens, that come in a wide variety of inks.
Stationery
Much like the way most people think of purchasing clothing; which communicates our style, our tastes, and essentially, who we are, there are those who think of stationery in a similar fashion.
The art of writing on hand crafted paper with an ink well and quill is a long standing warm thought by those who enjoy writing personal correspondence. Selecting just the right stationery is as easy as summing up the recipient's personality.
Words such as elegant, simple, flowery, etc. can all be equated to stationery. There are even online stores who pride themselves on homemade stationery complete with flower petals and scents. Again, keeping in mind the intended recipient and how a specialized stationery would be received is a good guideline for holiday gift giving for any friend or family member.

Our Top Rated Products section is a great way to find Christmas gifts for your friends and family.