Top 5 Christmas Dinners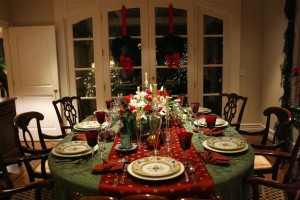 One of the most wonderful things about the holiday season is- you guessed it- the food. Throughout history, families all over the world enjoy magnificent feasts in celebration of Christmas. The varieties of foods that are enjoyed often reflect the country in which Christmas dinner is eaten. In the United States, the top 5 Christmas dinners most often enjoyed include magnificent main dishes, succulent side dishes, and fabulous desserts. Whether you are interested in experimenting with something different for you Christmas feast this year, or you are simply curious about what types of foods others are enjoying, we have gathered menus for the top 5 Christmas dinners in the U.S.
Roasted Turkey and All the Fixings
Perhaps one of the most common Christmas dinners that is enjoyed in the United States is a traditional roasted turkey with mouthwatering accompaniments like green bean casserole, stuffing, cranberry sauce mashed potatoes and turkey gravy.
Pork Tenderloin
Some families prefer to enjoy a magnificent pork tenderloin for Christmas dinner. The tenderloin is typically marinated or rubbed with special seasonings and then baked in the oven. Common accompaniments include roasted garlic potatoes, cheesy roasted mixed vegetables, deviled eggs and dinner rolls.
Glazed Ham
An extremely popular Christmas dish is sugar glazed ham topped with roasted apples or pineapple. Baked in the oven to perfection, glazed ham goes very well with homemade creamed corn, corn bread muffins, citrus and cranberry salad, and wild rice.
Roasted Beef Tenderloin
A juicy, tender cut of savory meat that is commonly baked in the oven, like the pork tenderloin, this main dish is typically marinated or seasoned to add magnificent flavor. Often accompanied by baked potatoes that are topped in butter and cheese, this dish goes well with braised broccoli, dinner rolls, and herb stuffing.
Desserts
In addition to the fabulously festive main course, one of the highlights of many family's Christmas dinners is the dessert. Traditional Christmas candies are often served throughout the season, but special desserts typically top off the bountiful holiday feast. Some of the more common choices are apple pie, peach cobbler, pumpkin pie, cherry tarts, cheese cake, and cinnamon bread.
Appetizers
Many families choose to offer finger foods and specialty appetizers throughout the day on Christmas. If this sounds like you, you might consider options like stuffed mushrooms, a meat and vegetable tray, a cheese ball with crackers, or some scrumptious homemade dip with chips.
Christmas Dinner in Other Countries
In Italy, the majority of families avoid meat altogether on Christmas Eve, which is when they enjoy their holiday dinner, in favor of The Feast of the Seven Fishes. Sensational delicacies like fried eel are often enjoyed, and a variety of pasta and meat dishes are served on Christmas day. In Germany, roasted goose and red cabbage are the star of the show, and in Iceland, families often dine on roasted reindeer for Christmas dinner.