How Christmas Is Celebrated In Different Countries
A holiday recognized around the globe and celebrated at various dates beginning as early as November and lasting in the first week of January, Christmas means many different things to many different people.
Knowing how your friends and loved ones celebrate their 'traditional Christmas' will help you in your perfect holiday gift search.
Did you know that hundreds of millions of people celebrate Christmas from all kinds of religious backgrounds? And while different people on different continents celebrate differently, Christmas truly does represent family, the birth of Jesus Christ, good food and presents!
Mexico
Christmas in Mexico begins on December 12th and lasts until January 6th. Beginning on the 16th through to Christmas Eve, small children usually perform the 'Posada' (Posada is Spanish for Inn or Lodging). As this ritual symbolizes Joseph and Mary needing a room at an inn, there are nine Posadas in total.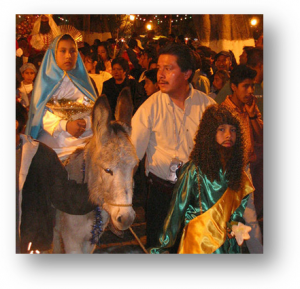 Paper Lanterns are often used to decorate the outside of houses. It's tradition to eat a special cake called, 'Rosca de Reyes' to symbolize the Three Kings leaving gifts at Epiphany on January 6th. Merry Christmas translates into 'Feliz Navidad.'
India
Celebrating the birth of Jesus Christ, India's Christmas celebration is known for celebrating diversity and unity. Christians throughout India decorates their trees (uauLLY mango or banana trees). Churches are filled with red flowers and small burning oil lamps are used as Christmas decorations.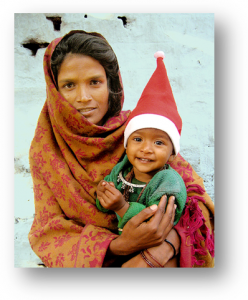 In addition to decorating their homes with Poinsettias, the Indian culture also uses mango leaves to adorn their homes. Due to the large Roman Catholic population, midnight mass is a very important service in India. Entire families walk to Church services, which will be followed by a feast of different delicacies which also includes the giving and receiving of presents. Merry Christmas translates into 'Bade Din ki Mubarak.'
Russia
In Russia, Christmas is now celebrated on January 7th. Due to the Russian Orthodox Church using the old Julian calendar for recognizing religious holidays, Advent is celebrated for 40 days, from November 28th through to January 6th.
Sauerkraut is the main dish eaten as the Christmas Eve meal, although some like to fast on that day. Dessert is often things like fruit pies, gingerbread and honey bread cookies and fresh and dried fruits. After the meal, prayers are said and people go to the midnight Church services. The New Year celebrations are, to this day, very important to Russians, often more than Christmas.
'S Rozhdestvom! Is the Russian Christmas greeting.
China
In China, Christmas is often celebrated only in major cities such as Shanghai and Beijing. However, in these cities, decorations of Christmas lights and trees adorn streets and department stories. Christmas trees normally are plastic with white paper chains, flowers and paper lanterns.
While some people go caroling, there is a significant portion of the population in China who don't celebrate Christmas. Special services for Christians are held and Midnight Mass is also popular. 'Sheng Dan Kuai Le or 圣诞快乐 is the Chinese translation for Merry Christmas.
Canada
Many different cultures reside in Canada. Traditions from such cultures as France, England, Ireland, Scotland and Germany have become incorporated to traditional Christmas celebrations. Most families have either a pine or fir Christmas tree; families also dress up in costumes and go door-to-door, asking to be allowed in the house to celebrate by singing and dancing while enjoying Christmas cake and mead.
Known as Mummering, this tradition beings December 26th and continues through to January 6th. In some parts of Canada, in honor of Saint Catherine (the patron saint of single women) a Taffy Pull is held. This event is designed at single women meeting eligible single men.
"Sinck Tuck" is a festival that is celebrated in some provinces of Canada. This celebration consists of dancing and gift exchanging. Families of French descent tend to have huge feasts Christmas Eve after attending Christmas Eve Mass.
Germany
In Germany, Christmas begins with the first Advent Sunday. Complete with an advent wreath in the home, with the walls, windows and doors decorated with handmade German crafts. The Advent wreath holds four candles, signifying the four advent Sundays prior to Christmas.
Each Sunday a new candle is lit. This informal ceremony is significant for families who have children, in that a quiet moment is shared and carols are sung and Bible passages are read. Christmas Eve meal usually consists of Bratwurst and Sauerkraut with a potato salad. On Christmas day the family goes to Church and then returns home to enjoy a Christmas dinner and special times with family and friends.
South Africa
Christmas comes in the summer in South Africa because it's in the Southern Hemisphere. Since schools are closed for the holidays, many people spend the Christmas vacation camping. Christmas trees in South Africa are fir trees, and children leave stockings out for Santa.
After Church Christmas morning, Christmas dinner includes Turkey (or roast beef, or duck), mince pies, with yellow rice and raisins, fresh vegetables with Malva Pudding for dessert (a sweet pudding with a hint of apricot and a vanilla sauce) and is typically eaten outside, if not BBQ'ing. The translation for Merry Christmas in Afrikaans is 'Geseënde Kersfees.'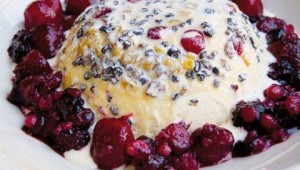 United Kingdom
In the UK families generally celebrate Christmas together and typically have a Christmas tree. Decorating the tree is a family event while other family members use holly, ivy and mistletoe to decorate the home. Generally churches have a Carols by Candlelight service, which gets everyone in the holiday spirit. In Scotland, there are those who celebrate New Year's Eve, known as Hogmanay, with greater fanfare than Christmas. Christmas dinner is eaten at lunchtime and consists of roast goose, stuffing, and even bacon and sausages. Merry Christmas, in Scots is translated to 'Blithe Yule.'
West Indies
In the West Indies, celebrating Christmas is celebrating the birth of Christ, conveying a sense of renewal. In the Caribbean there is "Fruit Cake" as well as an eggnog like substance, and folks eat turkey or ham for dinner. When you are in the West Indies, Christmas is a festive celebration worthy of dressing up for masquerade parades in a carnival-like fashion.
Around the globe this holiday has special meaning and different menus, but one thing is certain; it's celebrated with much reverence and faith.