Featured Gifts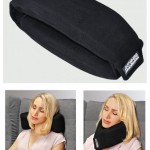 $

30.99
Anywhere Travel Neck Pillow
$30.99
Give the gift of comfort this holiday season with this Anywhere Travel Neck Pillow from Comfort Ideas! Let's face it, although we all love the time we spend with friends and family at holiday gatherings, travel can leave us exhausted, sore, and stressed. Now you and your loved ones can arrive relaxed and refreshed with the Anywhere Travel Neck Pillow! This neck pillow is uniquely designed...
Do you know someone who is ready for traveling and who you've decided to purchase a plane ticket for this holiday season?
With family members scattered all throughout the country (or the world) these days, it's best to start thinking of travel for the holidays sooner rather than later. Or, if you're going to purchase a ticket for a friend or loved one to use for an occasion other than the holiday's it's important to know when the best deals are, and what various pricing options are out there.
Did you know that most airlines offer a loyalty discount to frequent passengers? Some airlines, like Southwest Airlines, actually offer free drink coupons as well, just for becoming a member. Similarly, through Alaskan Airlines, you earn free flights with each mile flown.
Thinking Ahead
In the airline industry it's best to think ahead as far as price and travel is concerned. For example, if there is an important anniversary or birthday at a specific point of the year, it's easy to research dates to find the most inexpensive days to fly through the airlines "low fare" tracker. As well, Kayak.com is a great resource for researching flights, arrival and departure times, number of stops etc. That website pulls all the information from the entire airline industry and presents it in an easy to understand format.
Puddle Jumpers
Another option to consider is the puddle jumper flights. These often short flights to surrounding areas usually are inexpensive, easy to book and are a welcomed gift to those who are already traveling to an unfamiliar area, such as Hawaii or even Europe.
Upgrades
When purchasing a ticket as a gift, it's important to consider seating on the airplane. Most Airline websites have available on their site a seating chart for each aircraft in use. While most people do not know this, there are some airline seats that have more room than others and are more comfortable. For example, you might consider purchasing a seat at the very back of the plane; but the seat doesn't recline. However, if this is a short flight, or if your friend or loved one doesn't mind such a seat assignment then you're in luck. Likewise, the emergency exit rows tend to have more leg room. When purchasing a ticket for a tall person, this kind of information could be important.
While first class can be spendy, there are loyalty programs for most airlines that allow you to upgrade at a discounted price or free for the use of miles already accumulated. This would be worth considering when purchasing a ticket for long or extended flights.