Featured Gifts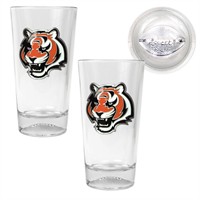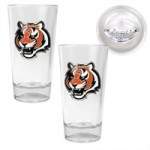 $

29.99
Cincinnati Bengals 2 Piece Pint Glass Set with Football Bottom
$29.99
If you have a Cincinnati Bengals fan on your Christmas shopping list this year, the perfect gift awaits! This Cincinnati Bengals two piece pint glass set with football bottom is sure to impress! This high quality set not only makes a wonderful gift for that hard to buy for Bengals fan, but it is perfect to add to your own collection as well! This pair of 16 ounce pint ale glasses features the...
Football, second only to baseball in the USA, is a very popular sport. Whether you have a child who plays football at school, or know someone who is a big college football fan, or an NFL fan, football is everywhere!
If you've got a football fan on your Christmas shopping list–and you probably do–there are wonderful presents that you can give this holiday season.
One perfect gift idea is a football! Originally created in 1851 by two shoemakers in England, one can never have too many footballs to take to the park, vacation or to the beach. Don't forget to include an air pump. There are footballs designed specifically for the Rookie; Pop Warner, as well as whole line of NEVERFLAT footballs, which claim to stay inflated 10 times longer than other footballs.
Football Gear
All too often, less than durable football gear is responsible for increased football injuries. That's why it's important to have good protective gear to keep your loved ones safe. Air management is critical as well to keep the player well ventilated during the game. The Douglas® CP56, is an all-purpose shoulder pad featuring air-management as well as open-celled foam pads. This is ideal protective gear as air is trapped inside of the pads and when force is applied to the pad that force pushes the pad forcing the air to move, thereby lessening the blow. This is ideal gear for the player who is taller. The cut-away design affords unrestricted arm mobility as well.
Got a kicker on your holiday list? Why not consider some items that will help improve the kick without the need of someone holding the ball for him? Two great products are Football Kicking Holder, and the Ground Zero Kicking Tee with Onside Kick Feature. The Kicking Tee is perfect as it's made from durable rubber and allows the kicker to practice the onside kick.
Useful for just about any sport is the carry bag, designed to carry gear. Typically mesh and vented, these carry bags prevent moisture buildup which will help control odor. Rugged in design and large in size, these bags are designed to carry football pads, shoes, helmets and more.