Featured Gifts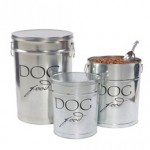 $

47.99
Harry Barker Storage Can for Dogs Classic Silver
$47.99
These Harry Barker Storage Containers will be the most special gift your pet may receive this Christmas season. These stylish containers are designed to keep dog or cat food dry and fresh. A free aluminum scoop is included with each container as well, for added convenience. The total volume of food and capacity are listed below: Cat Food storage space: 3.5 gallon holds an average 10 lbs. of dry...
Got a pet lover on your Christmas gift list? Then here are some great holiday gift ideas for their PET! With over 60% of the population owning one or more pets, pet gifts are more popular than ever.
Most pet lovers own a dog, cat, bird or fish. However, there are even more animals to add to that list when you consider ferrets, lizards, rabbits, hamsters and gerbils. Luckily for you, gifts abound for just about kind of pet.
Practical Pet Gifts
Consider giving the pet a gift THEY would enjoy… not necessarily their owner(s). Some of the most popular pet gifts address THEIR interests:
Dogs:—Typically inquisitive by nature, dogs tend to enjoy rawhides, or toys that require finding treats, such as the toy known as a KONG.
Cats:—Fascinated by moving strings that have a noise making device such as bells, cats enjoy feather sticks or the ever-popular, and ever-elusive laser pointer.
Birds:—If the bird is a breed of bird that can speak, than purchasing a loop tape complete with simple and easy words to understand helps give the bird something to do while learning a new skill.
Fish:—Not generally considered the 'playful' pet, fish enjoy different structures that have a number of different places to hide or to swim to and from.
Thinking outside the Usual
Pet owners generally have a level of care they provide for their beloved animals. Paying to groom pets, especially for pet owners with multiple pets, can get costly and cause stress in the home.
Consider a gift that will be enjoyed by both the pet as well as the owner. For example, in most pet-friendly cities there are mobile dog groomers who, with their stocked truck or van can simply escort the pet to the grooming area in your driveway! While it may or may not be stressful for the pet, the pet owner will enjoy the simplicity.
Another popular item to consider is the pet taxi. Don't think the pet owner could benefit from it? Consider, if you will, the notion that the animal has a Vet appointment, and the owner has to work. If there is no one to take the animal to the vet, the services of a pet taxi come in rather handy.
Pet Clothing
While on the surface, the notion of dressing a cat or dog in a sweater seems silly, it actually serves a purpose. Animals, much like humans, get cold. Dog breeds that have little to no hair (Whippets, Italian Greyhounds, Hairless) all require clothing to simply go outside. The simple sweater will be much appreciated by your four-legged friend (and its owner!) for years to come.