Featured Gifts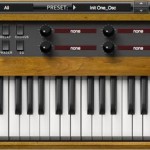 $

39.00
Xils Lab Polyplayer Virtual Instrument
$39.00
It's like music to your ears! This The Xils Lab Polyplayer Virtual Instrument has everything you need to enjoy the features of its big brother, the PolyKB, only in a lighter version. It is more than just a synthesizer module; it's a full featured synth that enables the user to customize eight parameters with the same superiority of PolyKB. Product Highlights: 8 User predefined and...
It's been said that "music soothes the soul." For that reason, giving the gift of a musical instrument can open doors of creativity and inspiration not even previously considered.
When shopping for a musical instrument as a Christmas gift, it's important to know the fine nuances of the instrument and the person who will be playing or learning to play the instrument. For example, any wind instrument might be a nice present, but if the receiver has asthma, it might not make such a good present.
Did you know it's considered easier for a child to learn a musical instrument than an adult? Children under 6 years old are best suited to learn an instrument, while an adult may take up to five times longer.
As with learning anything new, it's important to anticipate the learning curve for your friend or loved one. For example, when considering an electronic keyboard or piano, consider the length of the person's fingers. Longer fingers would provide more dexterity and nimbleness.
Musical Instruments for Children
Common instruments for children to acquire and learn early on it life are piano, violin or clarinet. There is a wide variety of books to enable a child to learn at home or through lessons. An electronic keyboard could be used in place of a piano, as well; headphones would be a welcomed item for both the child and the child's family.
Musical Instruments for Grown-Ups
Adults tend to gravitate to similar kinds of instruments and include bass guitar, guitar, flute, the French horn and percussion. There are electronic drum kits available to help keep the noise of practice down to a manageable level, through headphones.
Where to Buy Musical Instruments
In addition to the neighborhood music store there are other places one can browse to find the perfect fit in an instrument.
eBay is a good place to browse, as is Amazon.com. Believe it or not, a website that often hits paydirt for its musical instruments is craigslist.com. Don't forget pawn shops—many musical instruments of good quality can be found there.
Accessories for Instruments
When purchasing a musical instrument it's important to remember the other items needed in addition to the instrument. Things such as carrying case, strings, reeds, cleaning cloths and suchlike are all very much needed items that will certainly be used while learning the instrument or playing it for many years to come.