Featured Gifts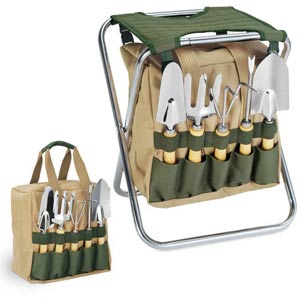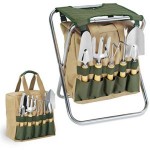 $

59.95
Picnic Time Gardener Folding Chair with Tools – Green
$59.95
This Green Picnic Time Gardener Folding Chair with Tools makes an excellent gift for that gardener on your Christmas list this year! Its innovative design and quality craftsmanship are sure to impress even the pickiest gardener on your list for years to come! The durable folding gardening chair with a green quilted seat provides both comfort and convenience, and can be folded away neatly when in...
Tools are always needful and useful around the home. From having a hammer handy to hang a piece of artwork, to having an electronic stud finder to locate the beam to hang that piece of art work on, it's a fact of life that having the proper tool makes life easier; and can make the perfect Christmas gift!
Tools for the Home
There are many items that make life easier around the house. For most, a tool box quickly starts to overflow with a wide variety of other things beside tools. So it's important to have the much-needed items easily located and quickly found. For example, a flashlight with batteries (and back up batteries), while not the most glamorous of gifts, will come in quite handy during the next power outage. Often needed, but overlooked are the screwdriver sets with both flat and Phillips heads.
Tools for Outdoors
In addition to a wide variety of garden tools, such as rakes, shovels and picks, there are other tools that come in just as handy. The knee pad, for those extended stints pulling weeds or working on the car. Gloves always make a nice present, and will always be used. Don't forget the wheel barrow; one with two front wheels for balance makes life much easier when hauling flowers, dirt or rocks around the yard.
And don't forget about sprinklers! Varying in size and shape and coverage, a wide variety of sprinklers exist for any size lawn or yard bound to please the yard enthusiast.
Grilling Tools
For the master griller there are a whole long list of such fabulous gift ideas as BBQ utensils, grill cleaning brushes, outside dishware, meat thermometers, fish grilling baskets and corn on the cob grill baskets that once used, will be difficult to live without.
Tools for the Car
Nothing ensures safety more than being prepared. What better way to help your loved ones be ready for anything than giving a home-made car care tool set? Complete with jumper cables, screwdrivers, pliers, gloves, a flashlight, and flares, this is one present that will be a blessing from the very first use.