Featured Gifts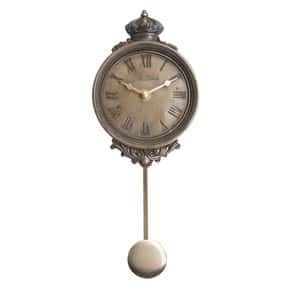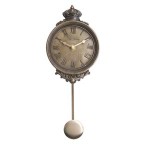 $

51.00
New Haven Cold Cast Bronze Crown Pendulum Clock
$51.00
The New Haven Cold Cast Bronze Crown Pendulum Clock adds just the right touch of antique artistry to any home or office. It would make an elegant gift that is likely to be treasured for a lifetime. This handsome pendulum wall clock is artistically hand carved from cold cast bronze for a look that is seemingly aged to perfection. The pendulum is made of an antique bronzed aluminum to complete the...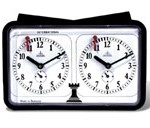 $

48.99
Plastic Mechanical Chess Clock
$48.99
If you have a chess lover on your Christmas shopping list this holiday season, this plastic mechanical chess clock might be just the gift you need! Whether your loved one enjoys more intense tournament games, or would simply like to put a time limit on more casual competitions, this high quality plastic chess clock is a perfect addition to any chess lover's collection. This high quality...
Much like the wristwatch, the home timepiece has graduated from function to a divine art form. From digital to quaint to wall art to vintage time pieces, clocks make a memorable and useful Christmas gift.
Clocks are commonplace items in most homes despite the fact that these days, cell phones are more regularly consulted for the time. While the traditional Grandfather clocks would work in some homes, a more appropriate cuckoo clock might work best in others.
Heirloom Timepieces
Crafted from linden wood and with painstaking attention to detail, the Cuckoo clock has a wide variety of animated characters, such as wood-choppers and dancers. The antique finish enhances any room. These clocks can cuckoo every half an hour, or every hour depending upon your preference. Complete with nighttime silencing options, most of these clocks require daily winding.
Grandfather Clocks are the perfect gift for those who enjoy elegance and beauty. From the traditional floor clocks, to the curio size, these are finely crafted timepieces, as well as distinctive furnishings. These beautifully ornate clocks are usually carved wood with an ivory-colored face; most curio clocks have glass shelves, and most have illuminated glass shelves and come with batteries.
Desk Clocks
The fabulous variety of desk clocks are sure to please anyone as a gift. Photos of family members, glass or wooden frames, animal shaped, antique or vintage, the desk clock can easily be a decoration or an important element while traveling.
Clocks for the Vision-Impaired
Those who have vision-impaired loved ones, such as grandparents or parents, will be relieved to know that many "talking" clocks are now available. Audio clocks with the voices of both men and women are available with a variety of accents, including British!
More than Time
In addition to telling time, clocks now come with a wide variety of information. There are clocks that provide the date, the day, the temperature, can dispense pills, can display time in colors of red, blue, green and even yellow!

2013 is projected to be a great year for giving. Check out the top Christmas gifts this season in our featured gifts section.