Featured Gifts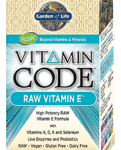 $

25.68
Garden of LifeVitamin Code Raw Vitamin E – 60 Veggie Capsules
$25.68
On sale now! Celebrate your life this holiday season with these Garden of Life Vitamin Code Raw Vitamin E – 60 Veggie Capsules, and enjoy a healthier lifestyle. Get your top vitamin brands from The Vitamin Shoppe, one of Americas most trusted resources for nutritional supplements and vitamins. Nourish your body with this RAW Vitamin E™ Vitamin Code™ formula. This is comprehensive formula...
Giving the gift of health is a great idea for holiday shopping. It's sometimes hard to navigate through the many different options available. But rest assured there is a plethora of information to help you locate the perfect nutrient and supplement for your loved ones for the holidays.
Ever wonder which vitamins are best for a particular condition? Here's a quick cheat sheet:
Vitamin A: Helps night blindness
Vitamin B: Helps regulate digestion
Vitamin C: Helps keep colds away
Vitamin D: Helps improve mood and sleep
Vitamin E: Helps improve skin
Vitamin K: Helps remove dark under eye circles.
If taking pills is difficult for you, then consider liquid vitamins. Gaining in popularity, liquid vitamins are tasty to the palate and are easier to digest.
Always popular, juice drinks are quickly getting recognized for all they can offer. Many different types of juices exist, beside the commonplace orange juice that has beneficial effects on the body, which make an ideal gift.
Acai Berry Juice
Acai berries are native to the Amazon rainforest, and are known to heighten energy levels, increase stamina, support vitality, and assist with general health. The purple berries of the Acai plant contain up to 33 times the antioxidant content as red wine grapes.
Aloe Vera Juice
Aloe Vera juice has long been used to stimulate internal bodily functions, and to sooth external skin and sunburn ails. It's naturally packed with vitamins, enzymes, and phytonutrients, Aloe Vera aids our bodily systems; from digestive to circulatory to immunity.
CoQ10, Liquid
CoEnzyme Q-10 is an essential nutrient required by our bodies in order to function properly. CoQ-10 is found in every cell in the body, and helps the cell to produce its energy. Supporting increased energy levels, this powerful anti-oxidant aids in the process of weight loss and even helps reduce the signs of aging.