Featured Gifts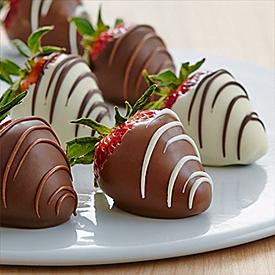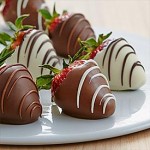 $

19.99
Half Dozen Gourmet Dipped Swizzled Strawberries
$19.99
The Half Dozen Gourmet Dipped Swizzled Strawberries will make excellent Christmas gifts for friends, family members and coworkers this year. With six magnificent strawberries that are hand-dipped in a variety of delectable chocolates and topped with your loved ones' favorite Christmas swizzles, these exquisite strawberries look almost too good to eat! Each order includes 2 scrumptious...
Fruit gift baskets are bright, colorful, fresh and delicious!
Gift baskets of any kind are a delight, but the basket gift ideas in this category go the extra mile. We've taken the best Christmas gift ideas and compiled our own gift idea directory. We'd be selling you short if we didn't mention these amazing gift ideas:
Edible Bouquets—Celebrate the bright, colorful world of fruit by turning it into a work of art. Fruit bouquets, otherwise known as fruit arrangements, are designed with as much care and consideration as their floral counterparts. Fruit baskets and edible bouquets can also be delivered like flowers for special occasions.
Company Fruit Basket—Set a colorful basket of fruit out in an employee break room or coffee lounge. Be sure to include a visible thank you note. Colleagues will appreciate the beautiful, healthy gift. Everyone will get their share to snack or nibble on throughout the workday.
Exotic Fruit—Pick a fruit from another region, or something hard to get. This will make the fruit unusual or even new to its recipient.
Fruits from our Childhood—Did your father grow up on an orchard in Georgia? Or did your grandmother have a lemon tree in her backyard as a child? If you have a loved who has moved away from the fruits of his childhood, send him a fruit basket. Smells and tastes from his past will overcome his senses, making this a memorable gift.
Fondue Baskets—Fruit is even more delicious when covered in melted cheese, chocolate sauce or vanilla cream. Fondue baskets make great Christmas gifts because, well, they are truly delicious.
Who Wants a Fruit Basket?
The better question is, who doesn't want a fruit basket? Fruit is a universally loved food, celebrated by cultures across the world. Our bodies, brains and taste receptors all agree that fruit is good for us. These reasons alone make fruit baskets a top Christmas gift to receive, as well as an easy one to give. They're a gift idea suitable for almost anyone.
Families love fruit baskets. They provide healthy treats for kids, which parents love. You may end up giving a child his first taste of a starfruit, or dried papaya. If you're looking for something more exotic, go with a tropical fruit basket with fresh pineapple and ripe avocados. How about juicy grapefruit with organic honey?
Gift baskets of all kinds, especially fruit baskets, make excellent corporate or business gifts. They are unique, and send a message of positivity and health.
Teachers, patrons, contributors and volunteers all deserve your thanks. You may know these people on a professional basis, and should give a gift that speaks to that relationship. Fruit baskets will acknowledge and encourage vitality in these important people.
We can't say it enough—fruit baskets are the perfect Christmas gift idea. They are a symbol of friendship, respect and health.