Christmas ornaments can commemorate important events in the lives of friends and family, and remind them for years to come…
Editor's Choice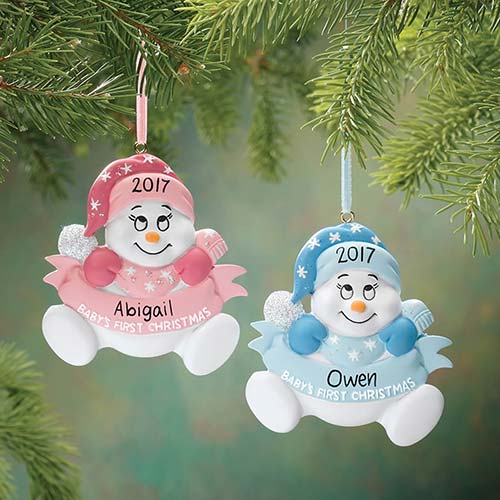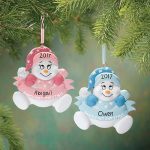 $

9.99
Personalized Snowbaby's First Christmas Ornament
$9.99
A baby's first Christmas is such a magical one! Help celebrate by purchasing a personalized snowbaby ornament from Miles Kimball this year! You'll have it to hang on the tree for future Christmases to come, and it will always remind you of their very first Christmas. If your friends or family members just had a baby, this is the perfect Christmas gift! They will definitely be...
Featured Gifts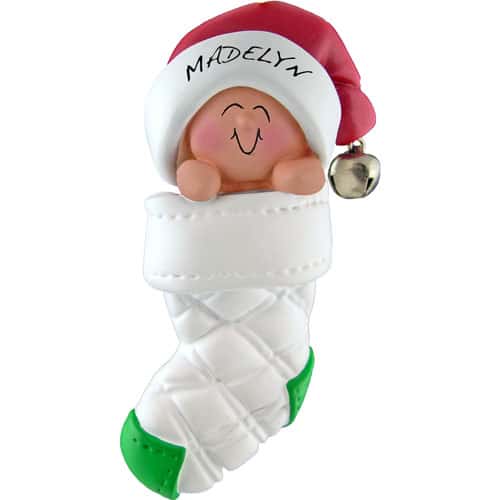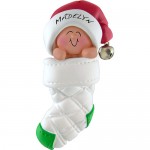 $

9.00
Baby in Christmas Stocking Personalized Ornament
$9.00
There's nothing quite as joyous as a beautiful baby smiling. It just warms the heart. This holiday season, give that feeling to someone on your list with this wonderful ornament. It features a smiling baby in a Santa hat snuggled inside of a cute little, white stocking. The hat can be personalized to any name you choose. Bring a little smile this year by putting this lovely ornament on your...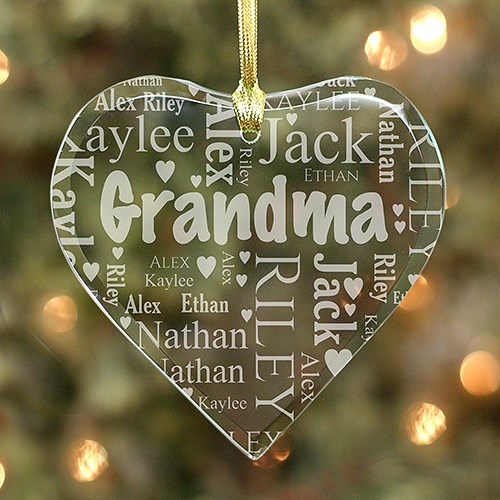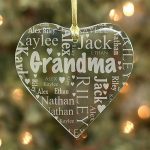 $

15.06
Grandma's Heart Glass-Art Ornament
$15.06
When a baby is born, a heart's love isn't divided – it's multiplied. A Grandma gets to double, triple, quadruple the size of her love and it knows no bounds. This sweet glass ornament features the names of her little loves all wound together in a beautiful arrangement of personalized word-art. Names are positioned vertically and horizontally in varying sizes and...
Giving Ornaments as a Holiday Gift
In the wide world of ornaments, there are so many different kinds to choose from, it could easily be overwhelming.
But with the many kinds of ornaments available, finding the right one for the people on your holiday list is easy if you narrow it down to fewer options. Here are some kinds of ornaments to consider giving as gifts:
What's the Occasion?
Ornaments are a special and unique way to commemorate special annual occasions. There are many events that take place throughout the year worthy of an ornamental commemoration. Some noteworthy events are:
Weddings
Births
Graduations
Anniversaries
Some Useful Tips about Ornaments
When purchasing specialized ornaments, keep in mind that most ornaments come with an area where a photograph can be affixed. Having a photograph of a newborn to affix to your gift ornament is easy assemble. In that same vein, celebrating a couple's first Christmas with an ornament complete with the year and a photograph, quickly becomes a favorite keepsake ornament.
Where, Oh Where Can My Ornament Be?
There are some very good sites on the Internet to find some very unique and one-of-a-kind holiday ornaments. There are boxes of ornaments, there are individually wrapped ornaments and there are, simply one of a kind ornaments. Very often, when browsing for ornaments on line, one can personalize the ornaments before they are shipped.
Don't forget the little things…
Often it's easy to forget the little things that go along with holiday keepsakes, or simple holiday gifts. Don't forget to add as part of the gift ornament hangers. There are some ornaments that don't require hangers but are coated wires that wrap around a tree branch.
Most importantly, do not forget about storing your precious keepsakes. This critical element is often overlooked when purchasing keepsakes. An ideal storage container is a padded box, with cardboard dividers so one can stack multiple levels of ornaments.