With our wide variety of creative gifts for him and her, finding unique Christmas gifts for that special couple in your life has never been easier. Select from budget friendly personalized gifts like photo frames and wall art, or purchase an experience gift and help them create memories they can share.
Editor's Choice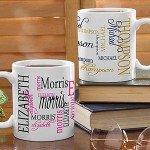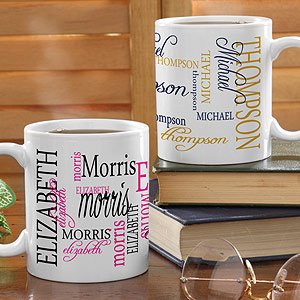 $

10.95
Signature Style Personalized Coffee Mug – 27% off
$10.95
A custom mug is one of those ingenuous gifts that can work for practically anyone—a family member, close friend, coworker, teacher, next-door neighbor—you name it. What makes an ordinary mug extraordinary is how you customize it. And the Signature Style personalized coffee mug makes this easy and elegant. Simply add any name and select the colors you like and the unique design is created for...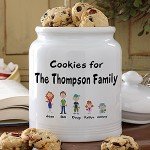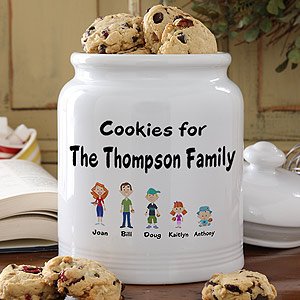 $

39.95
Personalized Family Cookie Jar
$39.95
Because every family enjoys baked goodies, sweets and treats, a personalized cookie jar makes for a delicious Christmas gift. What makes this personalized cookie jar exceptional is that you can customize it with so many options! You can add two lines of text on top of the custom cookie jar to specify the family name or a fun, personal message. You can then add up to eight family member characters...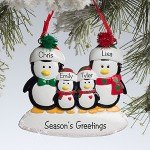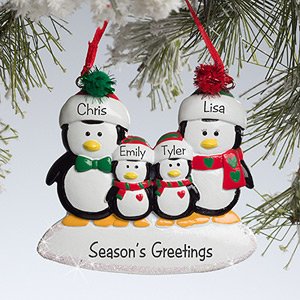 $

15.95
Personalized Penguin Family Ornament -50% off at checkout
$15.95
This absolutely adorable penguin family ornament is a perfect Christmas gift for family and close friends. The unique Christmas ornament can be personalized with three to six family member's names, each professionally engraved. Additionally, you can choose to include any family title, last name or a short personal message in the shimmering snow on the bottom. Handcrafted using vibrant colors...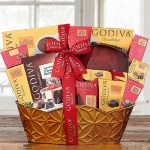 $

69
Godiva® Chocolate Gift Basket
$69
What's an undeniably sweet gift for the chocoholics in your life this holiday season? Godiva® Chocolate Gift Baskets, of course! This gorgeous antiqued finish metal gift basket, with delicate ties and a touch of gold lace, is filled with indescribably delicious gourmet fare. What an elegant gift! Purchase this gift basket to impress that special someone. Co-workers friends, and family members...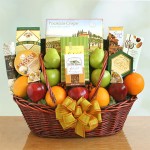 $

91.80
Fruit Gift Basket
$91.80
What would be the most impressive gift that you present to your family, friends, coworkers, boss or anyone else this holiday season? This mouth watering fruit gift basket, of course. It's a wonderful gift idea for the health conscious individuals on your Christmas list, and is certain to be appreciated by your family members and friends who are concerned about their health. This magnificent...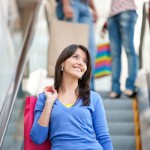 $

25
Gift Card Of The Month Club
$25
Gift giving can be an exhausting task, especially during the Christmas season! Alleviate some of the stress this year and purchase something everyone will love. The Gift Card of the Month Club is an excellent choice for those hard-to-buy-for people on your Christmas list. Simply purchase the gift card in the amount you wish, choose which stores to add, and let your loved ones choose their own...
Featured Gifts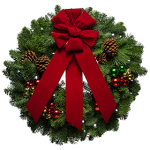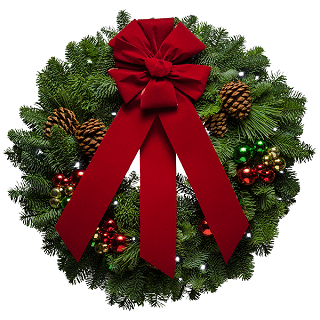 $

55.00
Jingle Bells Christmas Wreath
$55.00
Delight children of all ages this Christmas Season with the Jingle Bells Wreath from Christmas Forest. This captivating arrangement of twinkling lights, jingling Christmas bells and brightly colored ornaments that are tastefully placed amongst freshly cut noble fir and princess pine, and accompanied by a gorgeous red ribbon bow, is the perfect addition to any holiday décor. An inspiring design...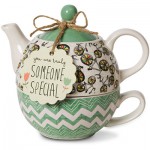 $

29.00
Someone Special – Teapot & Cup Combo
$29.00
A unique Christmas gift that is efficient as well, this magnificently decorated teapot is both stylish and functional. The 3 piece set features a teacup, teapot and lid all stacked into one for a space saving piece your loved one is certain to appreciate. Tea lover's beware, this beautiful teapot just might be the one that gets you addicted! Stylishly decorated with artistic bicycles, this...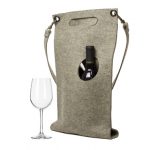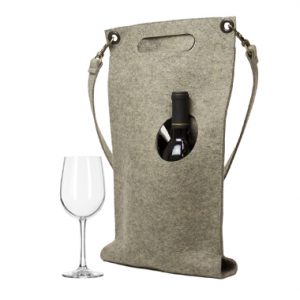 $

65.00
Double Wine Bottle Carrier
$65.00
A great gift for your host or hostess, our double wine bottle carrier is a wine lover's dream come true! Eliminate the need for those brown paper bags and tote your wine in a sleek case that's protective and easy to carry. It's a reusable and sustainable gift for your holiday gift giving. The double wine bottle carrier is crafted of 3 mm thick gray industrial felt and assembled with thread...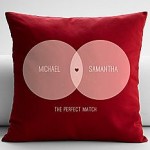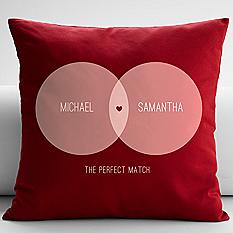 $

46
Personalized Couple's Diagram Throw Pillow Cover
$46
This luxurious personalized Couple's Throw Pillow Cover is just what you need to demonstrate your indisputable connection with that special someone this holiday season. This Venn diagram inspired throw pillow cover can be personalized with the names of both you and your sweetheart, and a date or sentiment of your choice that includes up to 25 characters, making it a unique and romantic addition...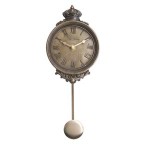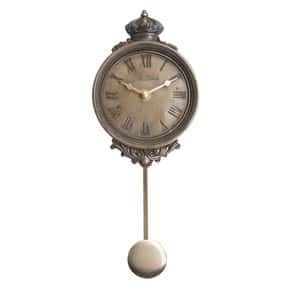 $

51.00
New Haven Cold Cast Bronze Crown Pendulum Clock
$51.00
The New Haven Cold Cast Bronze Crown Pendulum Clock adds just the right touch of antique artistry to any home or office. It would make an elegant gift that is likely to be treasured for a lifetime. This handsome pendulum wall clock is artistically hand carved from cold cast bronze for a look that is seemingly aged to perfection. The pendulum is made of an antique bronzed aluminum to complete the...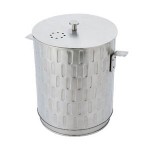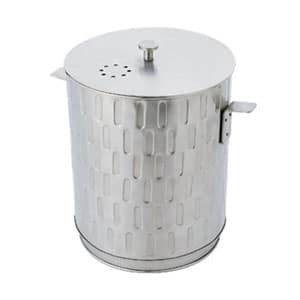 $

58.95
Kitchen Compost Pail with Carbon Filters
$58.95
The Kitchen Compost Pail with Carbon Filter is a unique and environmentally friendly holiday present for nature-loving individuals on your list. This silver compost pail with carbon filters will allow your loved ones to save kitchen scraps and convert them into compost for use in their gardens. This stylish, eye-catching apparatus will surely give your loved ones home a pleasant smell due to...
Unique Christmas Gifts for Couples
If you've ever been on a quest for finding unique Christmas gifts for couples, you know just how challenging it can be. Not only do you have to find gifts that are out of the ordinary, but you have to find items that will appeal to both members of the couple as well. One of the best ways to be successful on your journey to finding the best unique gifts for couples is to get prepared in advance. Be aware of any hobbies or interests that the couple shares. Pay attention to daily habits they might have. Consider items that might inspire new hobbies, habits or interests as well. Be sure to jot down a few notes about your special couple to help you evaluate their characteristics and develop creative ideas.
Once you have prepared for your journey to finding unique Christmas gifts for couples, it's time to get shopping! Forget about scouring the shelves of your local stores or slip sliding on the icy roads to get to that big box store, though. You can complete your shopping experience from the warm, safe comfort of home when you shop with ChristmasGifts.com.
Inspiring Ideas for Unique Christmas Gifts for Couples
Our family at ChristmasGifts.com is dedicated to ensuring that you have the most enjoyable shopping experience ever, so we've put together a few of our favorite ideas for Unique Christmas gifts for couples.
Christmas Gifts for the Home: Some of the best unique Christmas gifts for couples are items that are for their home. Consider things they can share like a high-tech coffee machine, unique decorative pillows, an elegant clock, or even matching coffee mugs.
Personalized Gifts: Most couples enjoy seeing their names placed together on the items they have, so why not consider personalized photo frames, custom designed wall art, personalized pub glasses, or even personalized Christmas ornaments this year?
Experience Gifts: Help your favorite couple create memories they can share for a lifetime this holiday season when you present them with an exciting experience gift certificate. Adventurous couples might enjoy daring experiences that get their hearts racing, while romantic couples will love a relaxing hot air balloon ride. If you're uncertain about the type of adventure your favorite couple might like, purchase an experience gift certificate that lets them choose their own experience.