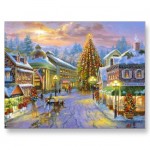 Top 10 Custom Products for Christmas from Zazzle.com
Nothing's worse than getting a boring gift for Christmas. Everybody likes something that has a little personality – a little unique something special to remind us how much we are loved – which is why Zazzle is a great place to shop for the holidays. Home to millions of customizable products, Zazzle has every kind of design that you can ever imagine. There's definitely something...
Business Holiday Greeting Card Etiquette
If you're in charge of sending out the holiday cards or holiday gift baskets this year for the office, you may not know just how to do it. What's acceptable these days? Can you send a gift along with your card? Is it ok to hand write them? Is it expected? Businesses have changed. Gone are the days of the staunch, formal office. Even in the most conservative offices it's acceptable to be a...