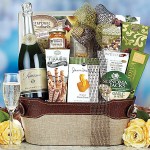 Ring In 2013 With Gift Baskets of Wine and Champagne
It's hard to believe the end of 2012 is almost here. The new year symbolizes a fresh start and leaving our regrets of the past year behind. Some of us will be celebrating with a quiet night at home, others will be stepping out for a hot night on the town with a large group of friends. New Year's Day is a huge holiday in the Russian culture and they tend to give gifts on that day as...
Business Holiday Greeting Card Etiquette
If you're in charge of sending out the holiday cards or holiday gift baskets this year for the office, you may not know just how to do it. What's acceptable these days? Can you send a gift along with your card? Is it ok to hand write them? Is it expected? Businesses have changed. Gone are the days of the staunch, formal office. Even in the most conservative offices it's acceptable to be a...